The sound of percussion fills the circle drive. The woodwinds repeat the same four measures of music until they get it just right. The trumpets practice their part under the shade of the Oak tree. And on Friday evening, they come together on the lower flat for a final concert. Parents, camp staff, and lake residents on their pontoons, watch and listen as Lakeshore Marching Band gives its first show of the season.
For 50 years, Lakeshore Band from Stevensville, Michigan, has filled the peaceful woods with music for one week each summer. This August, in celebration of the 50th anniversary of band camp at Friedenswald, Lakeshore guests and Camp staff spent an evening celebrating the long history and relationship between the band and Camp Friedenswald.
The cake was cut while listening to a record from the 1965 marching band, the first group to come to Camp Friedenswald. Marge Graber, whose late-husband Dan Graber was the director during that first summer, joined in the celebration, sharing with the band campers her memories from those early years.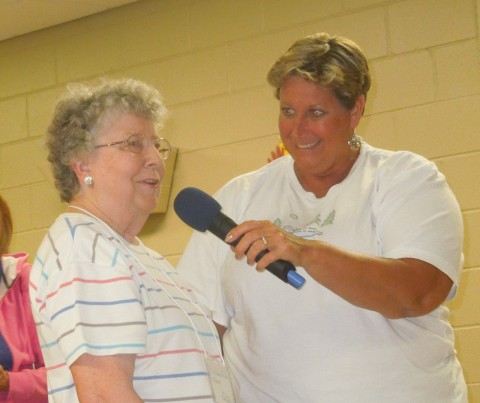 John Grover, coordinator for the Band Camp, sent the following note after their visit:
"On behalf of all the Lakeshore Band Camp chaperones please pass on my thanks to your staff who make our stay at Camp Friedenswald such a great time. I always look forward to a week in the Friendly Woods but this year, our 50th anniversary, was extra special. My coworkers don't believe me when I tell them that spending six days wrangling 160 high schoolers with just a handful of adults is 'vacation' but when we roll into camp I relax, take a deep breath, and smile a huge smile knowing your staff is going to make it a fantastic week. I'm already looking forward to next year, and hopefully the next 50!"
We are grateful for the opportunity to provide hospitality to this special group of students and teachers. And we, too, look forward to the next 50 years!