Volunteer
Looking for a way to get involved and serve at Camp Friedenswald?  We depend on the help of volunteers in order to offer the quality facilities and programs you've come to love and expect from Camp! Each year, volunteers contribute more than 600 days of time. We provide a variety of volunteer opportunities, ranging from kitchen to office work, to woodworking and maintenance projects.
We invite:
Youth Groups / Church Groups
School Service Trips
Internships
Yearlong Voluntary Service
When you volunteer at Camp Friedenswald, we will provide meals and lodging, depending on the length of your service and stay. Please contact us for more information and to arrange your volunteer visit! EMAIL US TODAY
Donate
How does your gift make a difference?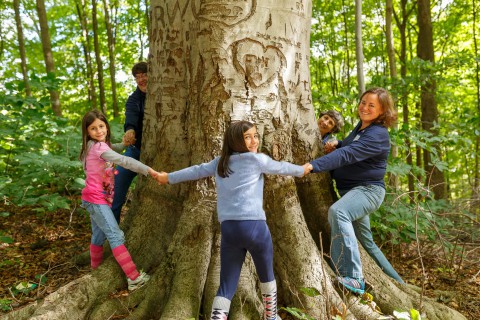 By enabling formative faith and life experiences. Hear first hand from our summer staff and campers about how Camp Friedenswald has shaped them.
Camp is a place that seems closer to God. Through relationships with peers and counselors, campers find role models for what it means to be a good person and a good Christian.
Camp has been essential to my faith development. From a young age, Friedenswald has shown me the wonders of God's creation and helped me to understand my place in it.
Camp has given me the opportunity to take breaks from the rush of everyday life and just dwell in the beauty and peace of nature and community. My camp experiences have strengthened my faith and understanding of the world around me.
Camp is a place that teaches youth to place Jesus at the center of their lives. Camp provides a nurturing community that allows for youth to strengthen their faith and learn about the Anabaptist faith tradition.
You can read more about the ways that your gift to Camp Friedenswald makes a difference in the world on our blog!
Builders Association
Since its early years, Camp Friedenswald has been blessed by the committed support of a special group of people known as "Builders." Support is shown through financial support and/or volunteer efforts.
How do I become a Builder?
A Camp Friedenswald Builder is committed to supporting and encouraging the work and ministry of Camp Friedenswald by:
Volunteering 5 or more days annually and/or
Contributing $500+ in financial support annually, either to the Builder's Fund (supports larger capital improvements) or the Friedenswald Fund (supports operating costs).
You can become a Builder of Camp Friedenswald by volunteering or donating. Please contact us if you would like more information about joining this special group of supporters!
What is the purpose of the Builder's Association?
To provide the Camp financial support through Builder's memberships.
To provide Camp a resource of persons with a variety of special skills that Camp may use for volunteer activities.
To provide the Camp Board with a communications link with its constituency.
To provide the Camp Board a network of people for mobilization under special circumstances.
To provide the Camp a core of financial supporters to provide financing for periodic capital improvement projects.