Whether for worship, a business meeting, or an informal gathering, Camp Friedenswald provides meeting facilities to accommodate a variety of needs.
Lakeview Lodge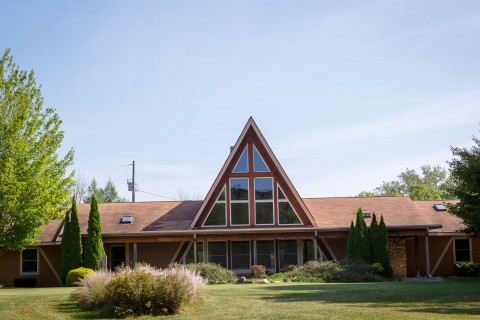 Capacity: 48 to 56
Lakeview Lodge is perfect for large family reunions or church retreats.  It has eight bedrooms; two of these rooms are fully handicap accessible. Each bedroom can sleep 7 and has a private bath. The large central lounge includes a fireplace, game area with ping pong and foosball, and a spacious kitchen. A nearby beach is located across from the lodge.
Levels:
1
Heat/AC:
Central Heat/Central Air
Bedrooms:
8
Three bunk beds, with bottom of one a queen bed, and private bathroom.
Bathrooms:
8 total, 2 handicap accessible
Kitchen:
Lounge Area:
Fireplace/Wood Stove:
Deck:
Notes:
Game room with ping pong, and foosball. A nearby beach with boats and toys!
Pillows and comforters are provided. Sheets and towels are available for $5/set.
Peak Weekend
Memorial Day through Labor Day.
$1000/night
Off-Peak Weekend
Not Memorial Day through Labor Day.
$970/night
Weekday
Sun-Thr night.
Only available Off-Peak, excluding holidays.
$770/night
Meetings & Gatherings
No overnight lodging.
$200/day
Pricing Notes
With a 1 night stay in a lodge on a weekend, groups will be charged 1.5 times the normal rate and may stay an additional 8 hours before or after the standard check-in and out times.