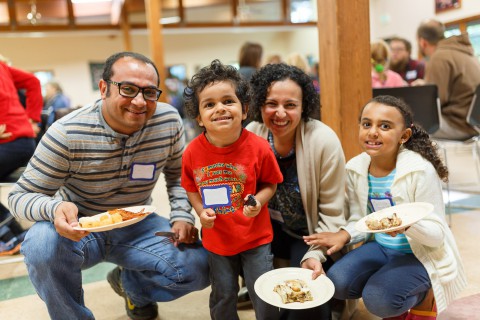 Let us serve you! Experience Camp hospitality at its finest by choosing Camp's dining service to meet your group's needs. We offer a wide range of dining options, from full buffet service in the Main Dining Hall to a la carte meals delivered straight to your lodge.
The Main Dining Hall
We serve groups sizes of 30-200 people with our full buffet service including a salad bar for all lunch/suppers served. Chef Eric Emerson can accommodate dietary needs for diabetes, food allergies (including gluten and lactose), vegetarian and vegan diets. Interest in dining service should be noted as part of the reservation process and is not guaranteed during all seasons/dates. (Please note that availability is limited during the summer months and over holidays.)
Pricing
Hot breakfast – $9
Lunch – $11
Brunch – $13
Supper – $13
Children ages 4-8 – ½ price
Children under 4 – free
A la carte meals
For smaller groups, we offer dishes delivered straight to your lodge. Pricing indicates small portion (15 servings) and large portion (30 servings).
Menu
Cinnamon rolls ($35/$50)
Baked oatmeal ($35/$50)
Egg & sausage casserole ($35/$50)
Tossed salad ($35/$50)
Chicken, rice & vegetable casserole ($35/$50)
Sausage, rice & vegetable casserole ($35/$50)
Beef, chicken, or vegetable lasagna ($35/$50)
Cheese, pepperoni, or veggie pizza ($30/$40)