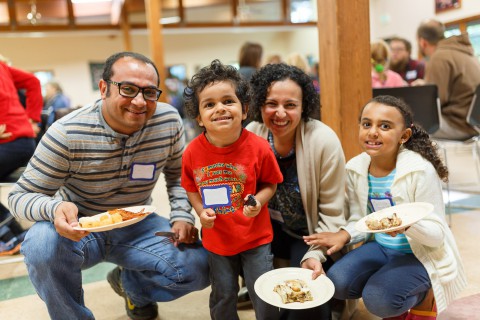 Let us serve you! Experience Camp hospitality at its finest by choosing Camp's dining service to meet your group's needs. We offer a wide range of dining options, from full buffet service in the Main Dining Hall to a  la carte meals delivered straight to your lodge.
The Main Dining Hall
Come, relax, and let us serve you in our Dining Hall.  We serve groups from 30 – 250 people with our full buffet service including a salad bar for all lunch/suppers served.  We accommodate dietary needs for diabetes, food allergies (including gluten and lactose), vegetarian and vegan diets. Advance notice (3 weeks min.) is required.
Pricing
Hot breakfast – $9
Lunch – $11
Brunch – $13
Supper – $13
Children ages 4-8 – ½ price
Children under 4 – free
A la carte meals
For smaller groups, we offer dishes delivered straight to your lodge. Pricing indicates small portion (15 servings) and large portion (30 servings).
Menu
Cinnamon rolls ($35/$50)
Baked oatmeal ($35/$50)
Egg & sausage casserole ($35/$50)
Tossed salad ($35/$50)
Chicken, rice & vegetable casserole ($35/$50)
Sausage, rice & vegetable casserole ($35/$50)
Beef, chicken, or vegetable lasagna ($35/$50)
Cheese, pepperoni, or veggie pizza ($30/$40)