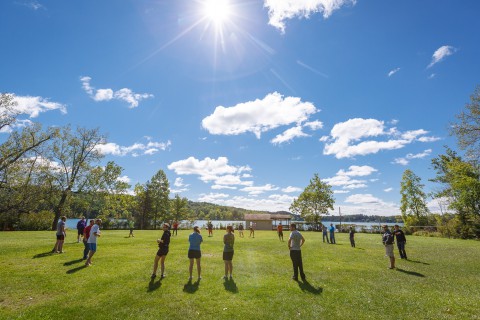 Let our staff help you plan your retreat, reunion, wedding, or family getaway!  Call us at 269-476-9744 (9 am – 5 pm M-F) to inquire about services, dates, and availability. We will work to accommodate your needs!
You can also fill out our Guest Group Inquiry Form to let us know what you are imagining for your retreat, and we will respond to your questions and requests.
The Reservation Process
Initial Inquiry

– we will spend time discussing with you different lodging and date options to find out what best suits your needs.  During this time we are able to place tentative holds until reservations are finalized.

Finalized Reservations

– once we have finalized the dates and specific reservations, we will send you our Reservation Packet, which includes a Contract, Invoice, Reservation Request Form, and Guest Group Policies.

Signed Contract & Deposit – Two weeks after receiving the Reservation Packet,

we require a signed contract & first deposit (50% of invoice)*

Reservation Confirmation – One month prior to your retreat

we will send out your current reservation information.  We require phone or email confirmation of these details (including final meal count and request for staff led activities) no later than two weeks prior to your retreat.

Arrival – we welcome you to your retreat at Camp Friedenswald! Final payment is due prior to or upon arrival.  
*Note about deposits
The deposit are nonrefundable and nontransferable.

Deposit amounts can be adjusted to accommodate guests' needs at Camp Friedenswald's discretion.
Guest Group Inquiry