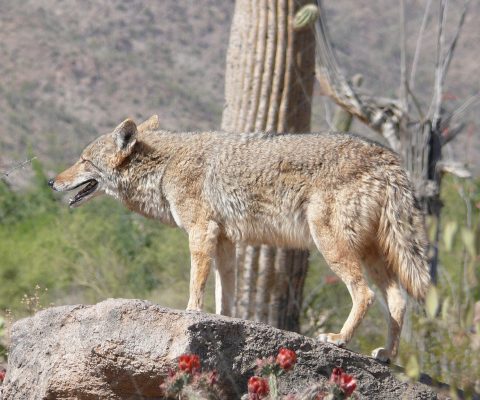 I first saw Coyote in Colorado, and I wasn't even sure who she was. Four-Mile Creek trail runs along the outskirts of town and links with city greenway trails, so that from town you traverse concrete and pavement past shopping complexes and homes until in front of you is prairie and behind you is town, behind town, the flatirons. I had just crossed into an area with open space to my left and development to my right. Coyote: on the other side of a fence. Her fur matched the dry prairie grasses, her slight build looked quick, and she could have been someone's dog, but the alertness and wariness she held with her body weren't quite dog, either. She stopped, I stopped, we looked at each other, then she trotted away rather uninterested, and I kept running.
I started watching for her, then. I left the west and thought I left her, too, but she kept showing up: in Indiana, in Ohio, in North Carolina, anywhere between. Often when I saw her she'd been hit trying to cross a highway, and I could tell it was her by her bushy tail, painted prairie no matter the surroundings. It was North Carolina where I heard her talk the first time, she and her whole family, and again I wasn't sure it was her: a high-pitched chorus of yips and howls that maybe could have been kids playing or a litter of puppies with squeaky toys – if not for the fact that it sounded like night had carried the conversation across trees, hills, and river into my window. Soon I saw her again, but she looked an entirely different beast: nearly twice the size she'd been out west, thicker coat, still wary, but confident too. Again – she stopped, I stopped, we exchanged stares, she disappeared unimpressed, I kept running.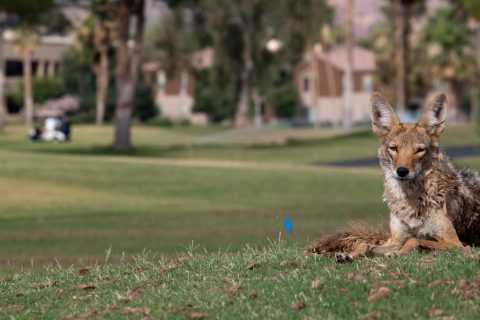 After this I heard and saw her everywhere, and I tried to get to know her.
It turns out my human interest in Coyote is yesterday's news. She's central to many Native American stories and myths, and wears a name given her at least a thousand years ago by the Aztec people; she was recorded as "prairie wolf" by Lewis and Clark as the 1800s just got started (Worrall, 2016). Coyote herself is, of course, even older news. Coyote's family (the Canids) evolved in North America 5.3 million years ago, and while cousins spread around the globe, Coyote herself never left, evolving on this continent as a distinctive species about 1.8 million years ago (World Animal Foundation, 2017).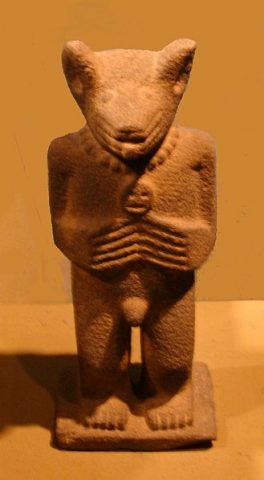 Attributed the predator status of a wolf in the 20th century, Coyote was targeted. Over the course of about a decade, a government agency killed about 6.5 million coyotes in the interest of helping the animals thought to be coyote prey (Worrall, 2016). Still today about 500,000 coyotes are killed each year (Worrall, 2016). So, when I thought I heard Coyote and her family filling up a starry sky with chatter about a month ago … I got goosebumps and grinned.
It's not that hearing Coyote has become a rare occurrence. On the contrary, Coyote is thriving – an incredible example of adaptation and survival. Once found primarily west of the Mississippi, Coyote's range now stretches throughout North and Central America, and there are nineteen subspecies (with eastern coyotes larger in size) (World Animal Foundation, 2017). She has reached beyond her original deserts and prairies to inhabit forests, mountains, and cities, and will interbreed with both wolves and dogs; she'll eat almost anything, from rabbits and rodents to fruit, insects, and garbage (National Geographic Partners, 2018). One of the most amazing adaptations might best be described as a sort of dogged (…sorry) optimism: If Coyote perceives a decline in pack numbers through unanswered howls, or if populations are otherwise stressed, her litter size will increase up to more than double the average size (Worrall, 2016).
Why did Coyote make such a huge cultural leap? Why yesterday a character in stories that instruct us about life, today abhorred menace? It's true coyotes will prey on chickens, and are occasionally in the news for trying to nab small dogs. It is this same role as predator, however, that makes them beneficial, contributing to the management of rodent and even deer populations (Banegas, 2015). Do we condemn Coyote because she challenges the idea that we humans control the ecosystem?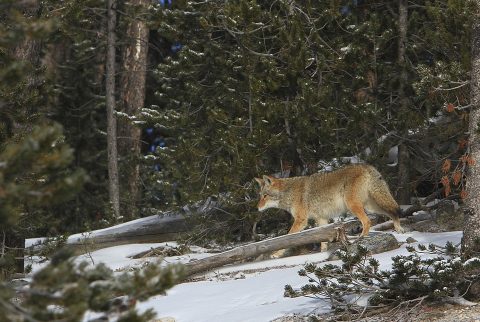 My sister comes home from a snowy hike and says there are big doggish paw prints on the trails at Camp Friedenswald. So here again Coyote and I meet at a fence. On one side is mystery and on the other, things that I (think I) know. We pause and exchange stares, and I get goosebumps. Somehow, as human populations grow and we change the landscape, Coyote is figuring out how to change, too. The capacity for enormous impact? Yes. Control? No. Just over a fence there's prairie filled with mystery.
References:
National Geographic Partners, LLC. (2018). Coyote. In Animals. Retrieved from https://www.nationalgeographic.com/animals/mammals/c/coyote/
Banegas, D. (2015). Study concludes coyotes help manage deer population in southeastern U.S. Retrieved from USDA Forest Service: https://www.fs.fed.us/blogs/study-concludes-coyotes-help-manage-deer-population-southeast-us
World Animal Foundation. (2017). Coyotes. In Advocate. Retrieved from https://www.worldanimalfoundation.com/advocate/wild-animals/params/post/1291322/coyotes
Worrall, S. (2016, August 7). How the most hated animal in America outwitted us all. National Geographic. Retrieved from https://news.nationalgeographic.com/2016/08/coyote-america-dan-flores-history-science/