We have so many dedicated volunteers at Camp Friedenswald! This new blog series, Volunteer Spotlight, is designed to highlight their many wonderful contributions to camp. I am hoping that their stories inspire others, and show that the work we do at camp is shared by many people from different walks of life.
My first interviewee is Virgil Claassen of Elkhart, IN. Virgil is a regular volunteer at camp. He can be found in the wood shop most Thursdays working on some project or other, usually with the help of Cal Graber. He also happens to be my great-uncle, but don't hold that against him. Virgil and I met to chat one afternoon to talk about his time at camp.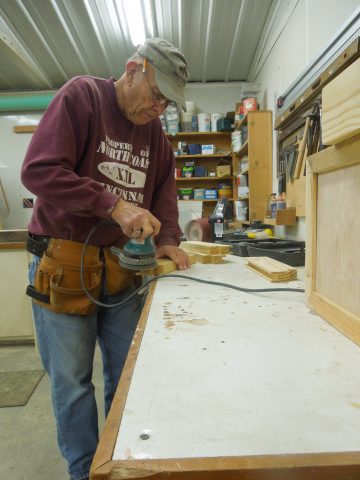 Kevin Leary: Hey Virgil, Do you remember the first time you visited Camp Friedenswald?
Virgil Claassen: When my wife Louise and I first moved here in August of 1973, we had friends at Anabaptist Mennonite Biblical Seminary and somewhere in those first two weeks they brought us up to camp. That was my first experience.
KL: Did you come for the day?
VC: I think we just drove up and walked around. After that, the seminary students and staff would come up every year in the fall for a retreat day. I don't remember thinking about camp too much until our church (Hively Avenue Mennonite Church) started coming up for a church retreat.
KL: When did you start volunteering at camp?
VC: My first experience was working on White Pine, which was considered the new "Graber Cabin" at the time. The Graber family (Peter and Mary Graber, of Elkhart) made that possible so that their daughter, Emily, could stay in a handicap-accessible room.
KL: And what kinds of projects did you work on with that?
VC: It was the whole house! Franzie Loepp from Normal, IL was heading up the construction project. And the way that got started was – we had been working out at Hopi Mission School in Arizona in 2004. When we were coming home we spent the night with CJ and Wilma Dyck in Normal. They had invited the Loepps over for breakfast, and during the course of the conversation Franzie asked me if I would like to help out at camp? Now that was the connection. And I've been working here ever since, usually once or twice a week.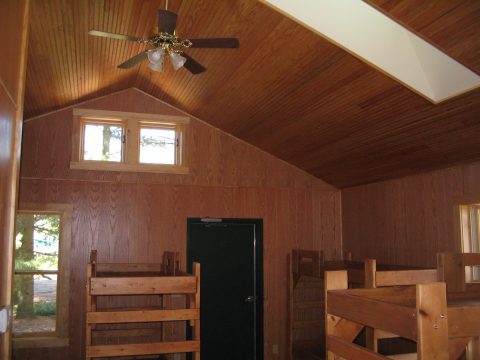 KL: What kinds of tasks do you usually work on when volunteering?
VC: There's a lot of different tasks– often doing woodworking projects: cabinets, shelving or some other woodworking task. Sometimes we replace windows that have rotted out or thresholds on doors. It is always that kind of work. 
KL: Have you always come up with Cal Graber?
VC: Yes. We started working together on White Pine, from the beginning. He and I were the ones that worked the most together. But then the next big project was rebuilding the rest of the girls' cabins. We had to do most of the finish work on them, including the paneling, hardware, and trim. One thing that some people don't know is that the wood we used for the trim boards came from trees at camp. For instance, in Hickory cabin we used hickory wood from trees harvested at camp. We started working on the cabins in January 2005 and we had to get done in time for the campers to come in the summer. So we sometimes worked two or three days a week to get the job done. But the cabins had heat in them, so we could work in there in the winter.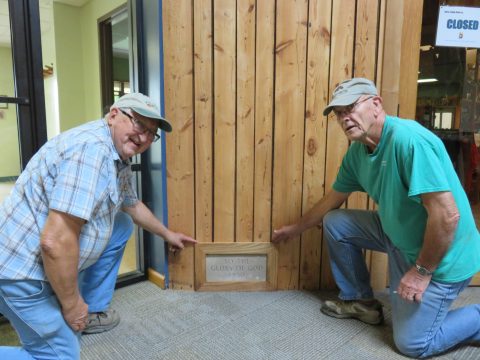 KL: What other projects at camp have you worked on? Is there a building at camp that you and Cal haven't touched?
VC: Probably not. We made the basketball and volleyball holders on the posts, as well as those little wooden hawks and eagles to scare away woodpeckers. I worked on the vents at the Meeting Place on the hill. It always had a strange smell in there so we put vents in the roof.
KL: Did you and Cal work on the Archery Range?
VC: Yes. We built the new archery structure. We also did a lot of work in the Chapel before it was renovated last year. When the girls' cabins were being built, we took all of the bunk beds apart because there was so much graffiti. We sanded them all down, stained and varnished them and put them back together. That was a big job because we didn't have much space! We had a couple of wagons we would store the things on – that took a long time. We also recently built the new bunks for Sandhill Lodge.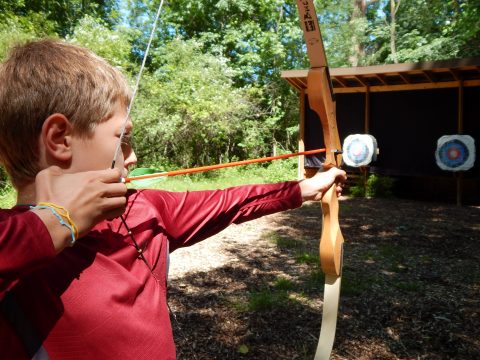 KL: And you had a hand in camp store.
VC: Yes, we did a lot of work on that one! We built the shelving in there, as well as the ladder that pulls up to the storage space. We also moved the wall outward, so there would be more space for camp store. In the game room, we put new paneling on the walls. We put a new window and sliding door in Fenwood house. I also know we did quite a bit of work in the Peace House – we replaced the windows, for instance.
KL: Thank You! That's where I live.
VC: You're welcome. We also built the benches for the wagon ride, where you haul people around. We built all the coat racks in the cabins and in the new buildings. The list is pretty long. We also did some work in Sycamore Lodge in the basement with the kitchen there. There are a lot of little jobs we had a hand in.
KL: Are there other places that you have volunteered?
VC: I do some volunteering at the seminary, usually for special occasions, like during Pastor's Week. I help out with the coffee breaks. I have also helped in the maintenance department at the seminary.  I also do maintenance work at church, and for a good number of years I worked at Church Community Services in Elkhart. For several years we'd go around with their vans and pick up groceries from churches for the food pantry. Then later on, lifting all those heavy boxes kind of got to me, so I went down to one half day a week. I was also on the board of the Center for Community Justice in Elkhart for about six years, and the board of the NAACP for ten years.
KL: Well good! We really appreciate all the work you do at camp! Thanks for taking time to talk to me, and for coming up each week to camp.