If you have been to camp for Outdoor Education or Summer Camp in the past year, you may recognize our next volunteer extraordinaire: Marie Blunt, of Granger, IN. Marie retired recently from her position of Executive Director of Samaritan Counseling in South Bend, IN. She is also a dedicated wife, mother and grandmother. I recently sat down with Marie to talk about her experience volunteering at Camp Friedenswald. 
Kevin Leary: Hello Marie. Thanks for taking the time to speak with me today.
Marie Blunt: My pleasure!
KL: I'll start by asking you about the first time you visited Camp Friedenswald.
MB: It was 20 years ago in 1998. I came up to camp as a "Super Volunteer" with my daughter Jolene when she was in fifth grade. We came up with Prairie Vista Elementary School in Granger, IN. They brought the kids up for three days and two nights of outdoor education classes.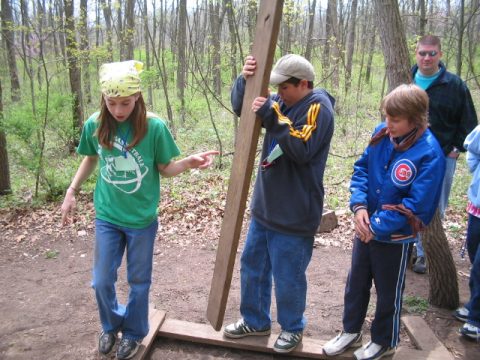 KL: Very good! How did you help out in that capacity?
MB: They assigned me to a small group of children and I followed them around for the three days. I ate with them and went to the various classes and activities with the kids. We did archery together, as well as teambuilding.
KL: So when did you then start volunteering at camp on a regular basis?
MB: In the spring of 2017, I called camp to find out if I could rent space for the high school youth group at my church for a youth retreat. I had been talking with Deb Martens, the Guest Group Coordinator at camp, and when I asked about the space for the youth I also mentioned to her that I was newly retired and interested in finding a way to volunteer. Deb said that she was looking for help with housekeeping, but I said "I don't really even enjoy that at home! What else do you have?" So she said: "Let me have you talk with our Outdoor Education Director (who was Simeon Paulson at the time). He called me back that very afternoon and invited me up to talk about about ways I could help out. My background is in education, and that just sounded like fun – That was the beginning!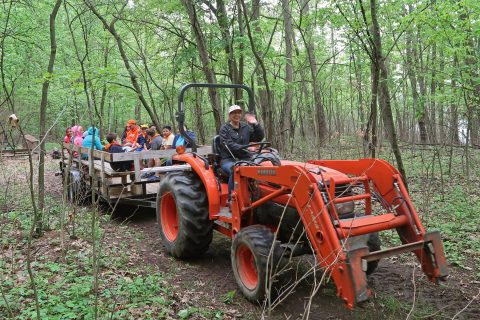 KL: Good! So you started out teaching classes with outdoor education. What does that involve? And are there any other tasks that you like to do at camp?
MB: I've also helped leading activities with summer camp. I also get to drive the tractor. With Outdoor Education I like to lead Teambuiding, Canoeing, Archery and the CSI class (Critter Scene Investigation) which I think you helped develop, Kevin –kudos to you! It is very clever. What fifth grader doesn't like fake blood and plastic poop?
KL: True! It definitely seems to hold their interest. Could you talk about the food activity you led during summer camp?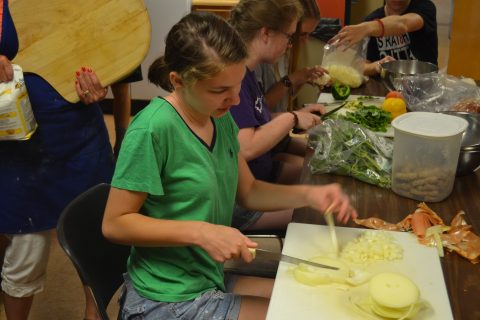 MB: Sure. I think we had some really wonderful, creative ideas that flopped somewhat because of the humidity. Some of the projects didn't turn out the way I had envisioned. We made pizza and decorated cakes. Another project was to make homemade pasta – but we ended up having to add a lot more flour, and we had to move it into your office where the humidity wasn't quite so high. We also made gingerbread houses, but the humidity made for more of a moist than a sturdy house, even though we were very clever to call them cookie cabins instead of gingerbread houses.
It was incredibly disappointing to put all of this thought into these projects that the humidity spoiled, but on the flip side, the young people totally enjoyed being together and trying something new and if it didn't work out, they just smashed and ate it. They just rolled right along with it. For them it didn't really matter the end product – it was the process that mattered to them!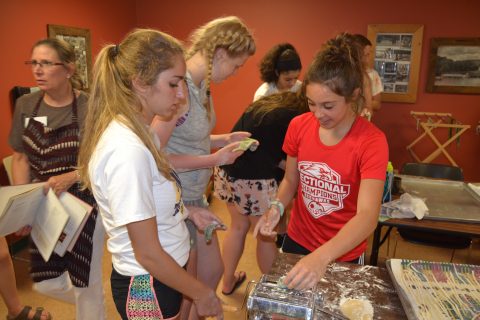 KL: They did have a pretty good attitude about it. Do you know any of the future project you might be working on this upcoming season?
MB: I'm excited to be back up here in the spring teaching canoeing and archery, but my favorite activity is teambuilding because I get to see a group begin to understand one another better. I think that many of the tasks we give them out on the ropes course are new to most kids and it really levels the playing field. That kid who's really good at math and the kid who is really good at sports – they have not had to get through a "Spider Web" before. I really enjoy when they see how everybody has a role to contribute. These skills will be helpful to them as they grow up. Overall I really like watching how groups interact, and how they grow in the teambuilding process.
For summer camp, I wonder if I could lead some card-making, specifically greeting cards or thank-you cards.
KL: Oh, that sounds like a cool idea!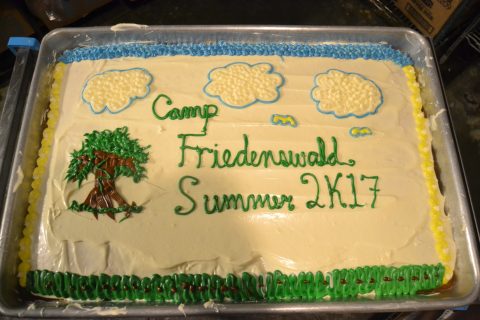 MB: When I brought the high school youth up here we made cards and if they had extra time, I encouraged them to actually write a note to someone using the cards they just made and send it to someone who had been a spiritual mentor to them, whether that was a parent, coach or Sunday School teacher. The kids really seemed to like it, so I was thinking about that as a potential activity I could lead.
Another idea I had was creating games – I'm thinking about traditional games like backgammon or cards. Maybe I could introduce kids to some of those OLD games, and then let them make up a game. That might need to be a multi-day project.
KL: Those sound like really neat projects. What is one of the hardest projects you have ever done at camp?
MB: Well, I must confess that one of my weaknesses is that I am very directionally-challenged. I cannot find my way out of a paper bag! If I go to a restaurant with booths in little "cubbies" I sometimes can't find my way back when I go to the restroom. All that to say that there was a teambuilding group that I was leading one time and I got extremely lost in the woods. I was gabbing with the teacher, and the kids were following, and when I looked up I realized that I had no idea where I was! There is nothing quite like saying to a group: "Trust me as your leader" and then having to admit you are lost. What's worse is that I had to call on the radio to have you come help me, and that let everyone in the group know as well as everyone on staff. So I called you and you asked "What do you see around you?" and all I could say was "Trees!" But eventually you found me and we got back on track.
I have to say that that experience helped me realize the support and compassion that you all provide here at camp. I was not made to feel stupid or belittled. We even came up with ways to help me find my way in the future, such as little flags to guide me. And I think that is testimony to camp – it really is a place where everybody can have a role. Even if you are handicapped, they'll find a way for you to do any activity. So – I really think it is a place for everybody!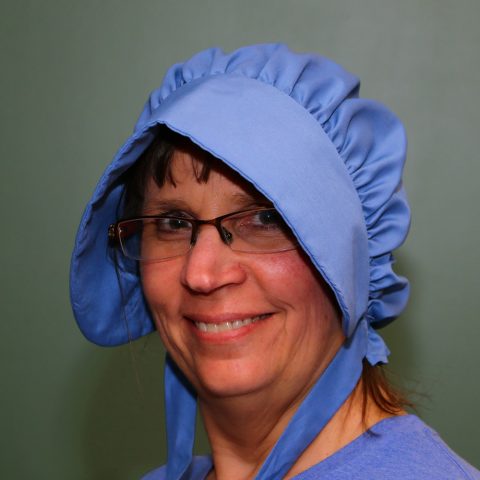 KL: Well thank you. My last question is if you have any funny anecdotes or stories about your time at camp?
MB: One funny anecdote is a canoeing experience. I was helping the kids get in the canoes, and I will just say that they were pretty inexperienced – definitely city kids. I had shown them how to paddle and how to put life jackets on and of course they don't really pay attention. Well there was this one kid who I think had had a bad experience with water – he was very timid about going out. His teacher said "I'll go out with you," so we put the kid in the boat with the teacher and off they went. A while passed, and when I blew the whistle for the boats to come in, this kid was smiling ear to ear and he said "Basketball used to be my favorite sport, but now kayaking is my favorite sport!" And I said "That's great! But you are coming out of a canoe, not a kayak!" Well, now canoeing is his favorite sport.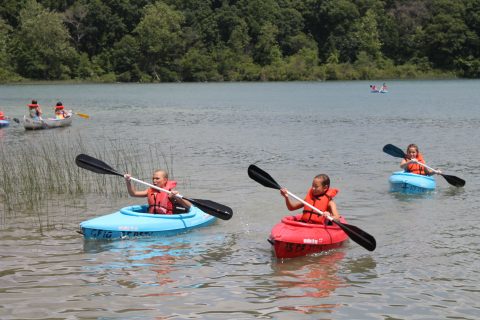 KL: You mentioned early that you are retired. Do you volunteer at any other places?
MB: Yeah, I am trained to be an AARP safe driving instructor – I teach older folks how to stay safe on the roads. I've also been a Stephen Leader at my church, Christ the King Lutheran Church since 1992 (Stephen Ministry is lay-Christian caregiving.) I've also been on the board for Leadership South Bend/Mishawaka, a community leadership program, and I still come and help out with some of their educational programs. Last week I led an ethics class for the group, and I've also moderated an ecumenical spiritual panel for the group, leading a conversation with a Rabbi and several pastors of various Christian denominations. But even with all these volunteer "jobs" I still have time for my grandbabies!
KL: Well thanks for taking time out of your day to talk to me. Is there anything else that you would want to add to the record?
MB: Yes. If there are other people thinking about being a volunteer at camp, I want to stress the warmth and collegiality of the year-round staff. The welcome I received at camp was truly genuine. The passion that you feel here in the peaceful woods – you can't fake that! You guys really are a team, and now I feel like I am a small part of that team in a very genuine way.
KL: Well thank you!
MB: Also the food is delicious. Ellie does such a good job. I don't know if it's just the fact that the food is delicious or if I am just starving when I come in from outside…
KL: I think it's probably a little bit of both. Thanks again, Marie, and I look forward to seeing you up here this spring!