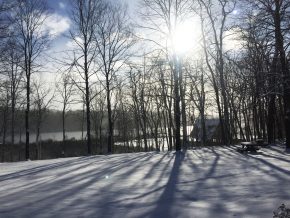 While things may seem a little quieter at Camp through the winter months, especially on the tail of a busy summer and fall, Camp staff aren't even close to bored. In addition to hosting winter events, these cold months are devoted to catching up with behind-the-scenes work. One such task is development of Camp's Sustainability page: recently unveiled, and something you should check out soon.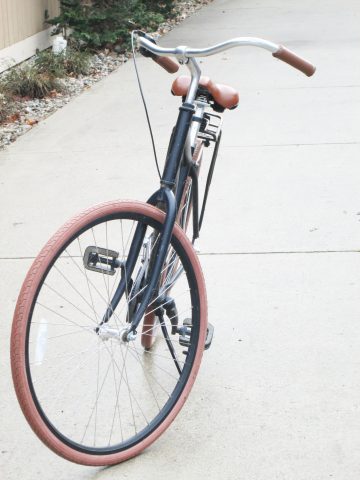 The Sustainability page provides great illustration of how we're implementing the Camp Friedenswald Resilience and Sustainability Plan 2022. This plan, officially initiated in 2017, puts into practice several of Camp's long-established core values, such as peace, stewardship, nature, simplicity, and community, and will be an ongoing project over the next five years. Because the plan demonstrates what we believe, we want to keep you all up to date on our progress. Today you get to read about what is literally one of our coolest sustainability initiatives – during winter months anyway – and it's been underway longer than the official Sustainability Plan: using bicycles at Camp.
If you visit Camp during any time of year, you're likely to see a handsome, classic cruiser bicycle parked outside the Dining Hall or other Camp building during your stay, even in the snow. Responsible for these three-speed Priority bikes (also one of the lucky souls who rides them) is Facilities Director Jonathan Fridley. They're his answer to that ubiquitous question of how to best get ourselves from here to there.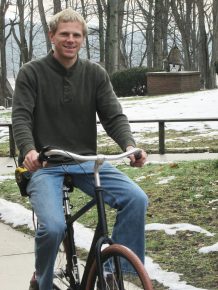 While many organizations resort to conventional reliance on motorized transportation for facilities-related tasks, Jonathan reexamined the need for motorized transportation after a guest commented that the sound of the Gators rendered our peaceful woods not-so-peaceful. Since purchasing his Priority bike two years ago, and now purchasing a second bike for Facilities Assistant Anthony Conrad, he has discovered that getting around by bike has many benefits beyond noise reduction.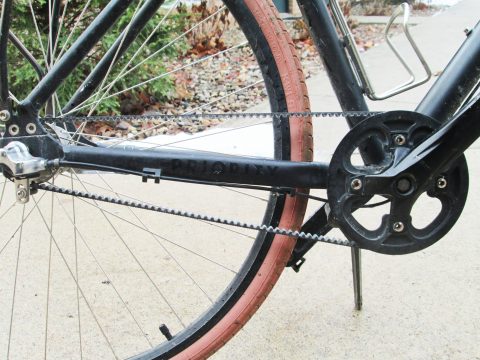 Most obviously contributing to sustainability and stewardship at Camp is the fact that the bicycles provide wheeled but non-motorized transportation. This means the only fuel needed to keep them running is the food the rider eats: a resource we can strive to make completely renewable. Additionally, the bikes employ a belt rather than a chain system, so no grease is needed for upkeep, and the breaks are low-maintenance, too. The tires are puncture resistant, and in the years Jonathan has been riding between various facilities jobs, he hasn't had to fix a flat. Fewer flats means less trash. Such a low maintenance bike uses fewer material resources and also eats up less time in repairs.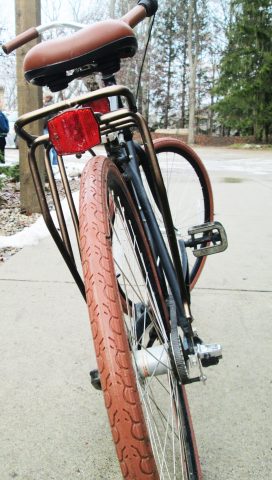 There are thirty buildings to maintain on Camp property, and any given day will require work in more than one, along with trips back to the maintenance building. Walking between jobs or to retrieve a forgotten tool from Main Camp certainly reduces engine noise, but it also robs valuable minutes from the day. Wheels help save some of that time, and Jonathan has noted that commuting by non-motorized wheels is just about as fast as using gas to get around.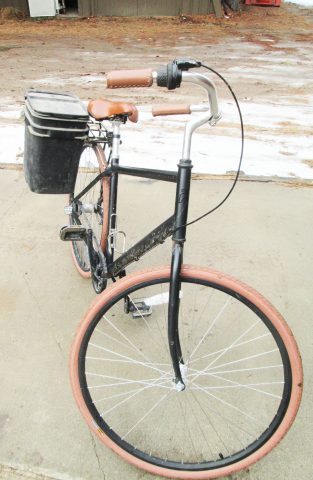 Granted, there are times when the power of a motor, or the carrying capacity of the Gator, are necessary. To increase carrying capacity on the bike, Jonathan designed a bucket that hooks onto the rear rack. With this simple accessory the bike is set to carry any number of small tools or other supplies, and larger boxes can also be fastened to the rear rack. For even more carrying capacity, bike trailers are an option – one that Sustainability and Outdoor Education Director Amy Huser has been utilizing to transport Outdoor Ed equipment around Camp.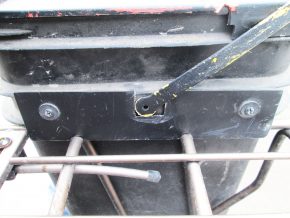 In addition to these practical benefits, the perspective one gains from the seat of a bicycle, especially a classic-bodied model, can change our approach to each day. Without the noise and other distractions of the Gator, and with the alert posture the bicycle affords, Jonathan has found he's more attune to his surroundings. Embracing non-motorized transportation also breaks our deeply-ingrained habit of rushing away each day, and even liberates us some from our totally dependent relationship with technology.
This is where the core values of peace, simplicity, and community come in. The two wheels of a bicycle function sort of like our two eyes, in that they permit a more complete perspective of the world rather than the conventional, single-track pursuits of perpetually increasing speed and consumption. When we open ourselves to our surroundings, we can reconnect – with each other and with the natural world. The beautiful thing is that reconnecting in this simple way has such a wide range of benefits. The next time you're at Camp, watch for Jonathan or Anthony riding around on their (appropriately-named) Priority bike. Feel free to strike up a conversation about the two-wheeled view, and how it helps us keep our priorities straight.