Jenna Liechty Martin reflects on home, change, fear, and joy, as it intertwines with life and her work as executive director over the past five years.
Scrolling through pictures from the past five years, I came across the picture my husband, Peter, snapped as we drove up to our camp home on January 1, 2014.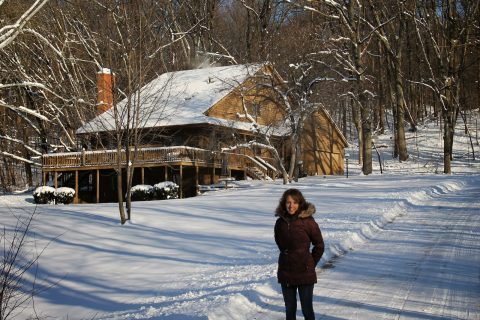 A fresh layer of snow had fallen the night before (we didn't know it, but we wouldn't see the bare ground for at least three months), and the scene was picture-perfect. It was the home we'd longed for after several years of living out of a small one bedroom apartment in a city.
When I look back on this picture now, I see a young 28 year old, desperately clinging to the deep peace within assuring her it was the right place to be, as the voice of doubt and fear of the unknown tried to find a home.
When I look back on this picture, I notice what has changed. The apple tree in the background has been removed, it's dying limbs no longer able to produce fruit. The maple tree, now five years older, has held my two children, all but a mystery at that time.
… 
On day 1, I hung this reading by Pierre Teilhard de Chardin above my computer screen; it's become part of the landscape I see each day from my camp desk.
Above all, trust in the slow work of God.
Slow work. Trust.
A daily reminder.
…
After settling into our new home, we experienced our first Michigan lake effect snow. I pulled myself away from the woodstove, to walk the trails, pausing briefly at Inspiration Point to notice the newly uprooted tree – its trunk still blocking the path. A holy space for many of Friedenswald's faithful, forever changed.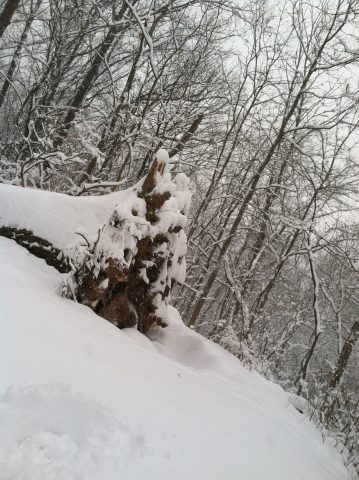 Five years on, the tree has settled into the landscape once more. It appears lighter now, softer even. In its settling, it's become a home for creatures; a hiding place, a refuge, for any/all seeking inspiration.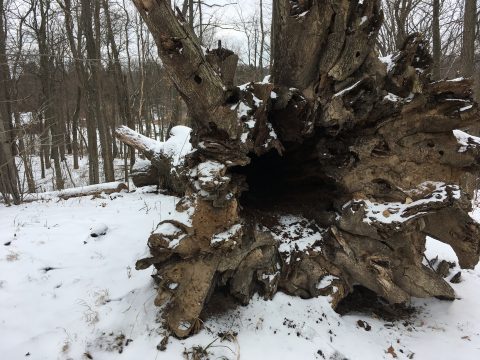 …
Sometimes, in a quiet moment, when I'm nursing my nine-month-old daughter, Mae, or lying next to my nearly-four-year-old Henry as he falls asleep, I attempt to hold onto the moment – to linger in time – willing it to stop. Pleading with time to slow. Just for a moment. To stand still. To not age us. Or change us. Just let us be.
But, inevitably, the moment ends. I place Mae down to sleep; I kiss Henry goodnight, and night comes. I fall asleep, too.
We are, quite naturally, impatient in everything to reach the end without delay…
…
The past two weekends have held winter retreats. Over 300 youth, sponsors, and volunteers filled the peaceful woods with laughter, worship, play, and genuine connection away from daily distractions.
During High School Retreat, over twenty volunteers joined us. Reflecting on the weekend, Kevin Leary, program coordinator, pointed out that volunteers (and others present) represented summer staff of at least the last consecutive fifteen years.
So much has changed. Yet so much stays the same.
The spirit of Camp Friedenswald is carried collectively by those whose lives have been touched, and who desire to return to the place and relationships that have nurtured and shaped their lives. In return, they/we long to actively participate in the continual shaping of this sacred place. 
I am honored to serve among you all.
…
I came across a picture of the Chapel circa 2014, taken from the walkway headed towards its entrance. Snowflakes blur the image, but I recognize the familiarity of the old building's shape, and remember the hard work and discernment that went into determining what would become of the aging facility.
As youth entered the renewed Cottonwood (Chapel) on Friday night for the opening worship, energy and excitement filled the space, much as it has the past sixty (or so) years for winter camps. The renewed facility, now in its second year of use, sits on the same ground; the same beams holding up the structure that have contained singing (and, I've heard, dancing!) as praises rise up the A-frame's sturdy beams.
…
Enough snow fell to open the tube run on Saturday night. A couple of runs in, and already patches of dirt and poky sticks start to show. That didn't stop me from taking a turn on Sunday afternoon. Camp was quiet, peaceful, except for my own shrieks as I flew down the slope.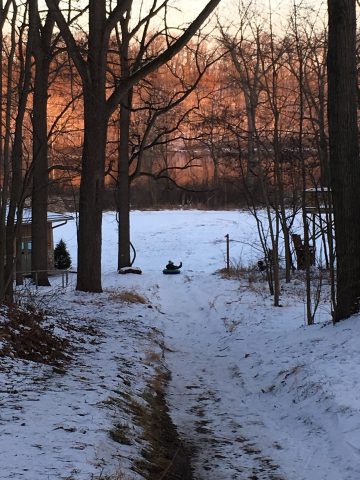 After much coaxing and encouragement, Henry made it to the top of the tube run with me.
This video tells the story best.
Fear transformed into joy.
…
The past five years have been transformational, for me.
Being at home in the peaceful woods, helping to create a home – whether for a weekend or entire summer – has been a joy-filled ride.
Above all, trust in the slow work of God.
…