Camp pastor Ben Kreider came to us from Columbus, OH where he is serving as pastoral intern at Columbus Mennonite Church this summer as part of his studies at Princeton Theological Seminary. We were incredibly grateful for Ben's work with the Primary (1-2 graders) Campers the first week of summer.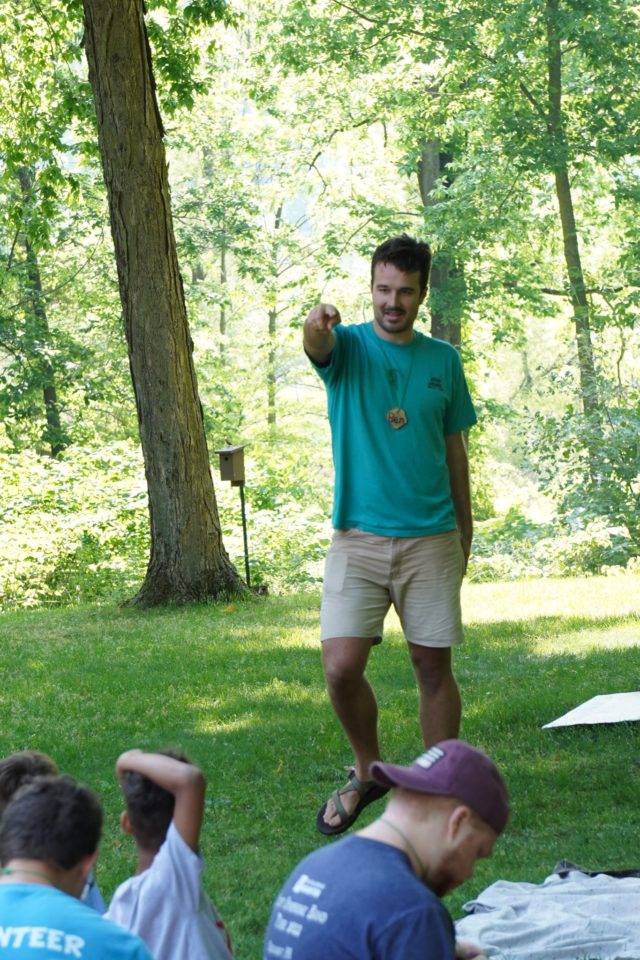 I had a wonderful week at Friedenswald, serving as camp pastor for the primary camp. With a theme of "Shaped Like the Earth" we focused on the Genesis creation story – particularly God's dividing of water and land and the creation of plants and trees. God made the world good and while at camp we practiced getting to know this good world.
During one activity, I asked the campers to walk around attentively and each find some object where they saw God's creativity. They were to bring the items back so together we could make a collage of a tree. Before my instructions were complete (including directions not to pluck or damage any living things) the kids' eyes lit up and they began to scatter.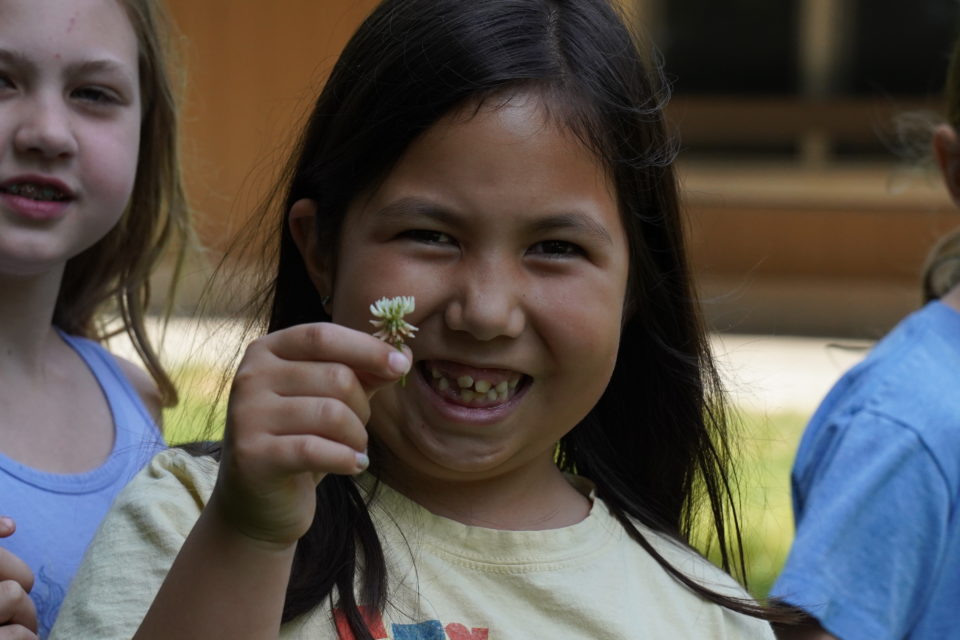 They came back with the sorts of things you have to really look for to find. A tiny fragile broken eggshell, smooth sculpted stones, mushrooms, leaves, bark, and seeds and pine cones, a whole range of sticks and twigs, from myriad different trees. One camper came proudly with a handful of loose soil to place on our emerging collage.
I was moved by the joyfulness and eagerness of these campers to point out and affirm God's goodness in this earth and in each other. In their first time as campers at Friedenswald, they embraced the activities and rhythms of camp – swimming and songs, mealtimes and campfire, laughter, and serious moments alike. Coming to camp takes bravery and these campers grew new friendships and understandings of themselves and God.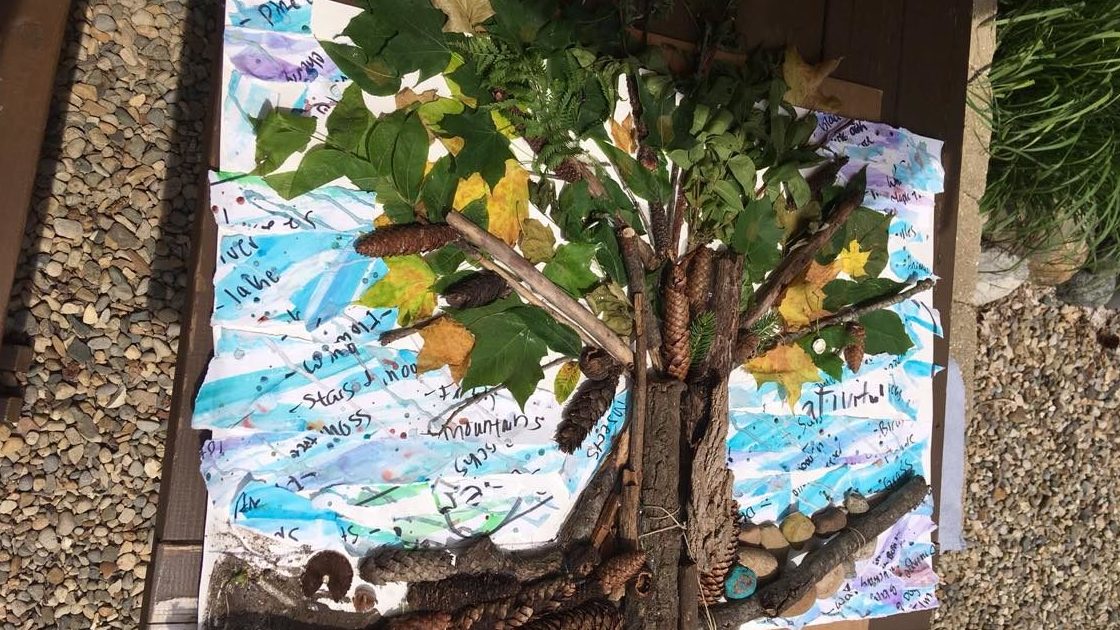 Camp opens us up. There can be so many things that get in the way of wonder, curiosity, and gratitude. I found myself while at camp more open to joy, seeing God at work all around me, as the rhythms of each day kept nudging me to consider God's goodness.
Creative play can open us up to wonder. After the kids had brought all their individual items that reminded them of God's good creation, I set to work gluing, tying, and weaving them together in an artistic creation. I lost track of time as I played with my hands, trying to honor the spot where each kid had placed their item, weaving them together to form a collective tree. Behind the tree, to form a sky, I glued strips of paper, leftover notes from our discussion on God's creativity.
The experiences of getting our hands messy, finding joy in creation, viewing the world with wonder, playing, and embracing new friendships, relationships, and experiences are not only practices that help to grow the faith of children and youth. They are also good for adults too.
I give thanks for the smells and sights and rhythms of camp I experienced: Flipping grates of chicken roasting over charcoal…tired arms splashing and straining to cross Lake Shavehead to join a cookout… early morning trail runs and walks joined by deer, muskrat, birds, and snakes…the mesmerizing drama watching the making of kettle popcorn over an open fire…debarking and planing black locust logs to become timbers for a new play structure…the transformation of learning new songs – from call and response and mimicking movements, to singing and signing in full gusto…the welcome extended by counselors and staff as new campers first arrive…the goodbyes exchanged as camp ends…
…all ways that through joy and wonder young and older folks alike glimpse the goodness of our loving and creative God.