By Jerry Nussbaum – Former camper, staff member, and current board member.
Summer 1968 I boarded the famous Friedenswald blue bus in Kidron, Ohio, meeting other campers from Sugarcreek, Wadsworth, Bluffton, and Berne (Indiana). Having attended Camp nearly every year summer and winter from elementary through high school, I have a bus full of memories that will always remain a part of my experiences in the peaceful woods.
Round Lake is a special places at Camp full of memories. My first experience was especially memorable. After the long hike from Main Camp to the Outpost site at Round Lake, we stayed in the tree houses, which were built in the mid-1960s. I loved being in the trees and feeling the thrill of swinging on the vines in the forest; the campfires; and exploring the night woods in search of owls and other critters.
Following experiences at Friedenswald as a camper, I served on summer staff in '77 and '78. During this time, favorite activities at Round Lake included "The wall", as well as canoeing from Round Lake through the rushes, sedges, and cattails, to an open vista into Long Lake with its pristine un-inhabited shores. Round Lake served as a gathering place for many campers through the 70's and 80's. In the mid-1980s, I was privileged to join the year round staff as Program Director, continuing to build memories at Camp and helping to shape them for a new generation of campers.
When I joined the Camp Board in 2016, we were presented with the opportunity to acquire land adjoining Main Camp (north of Allan Hill), in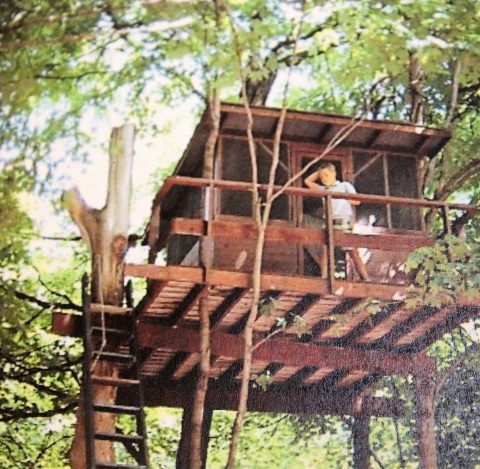 exchange for acreage at Round Lake. My initial reaction was one of hesitancy, but as we reviewed the proposal in light of changes in Camp's programming over the years, as well as the opportunities gained by the additional acreage, the idea grew on me.
When Round Lake was purchased in the 1960's, Main Camp consisted of approximately 40 acres, and there was little hope that additional land would be acquired. In order to provide a meaningful Outpost experience, the Round Lake property was purchased in hopes that it would provide just that. And it has. Over four decades, campers and staff have had experiences that have shaped their understanding of themselves, Creation, and God.
As additional land was purchased at Main Camp, new Outpost experiences began to emerge – Allan Hill, Shavehead Site, and Turtle Hill. While Round Lake remained an Outpost location through the 1990's, its usage dropped in the 2000's, as new opportunities and requirements in programming emerged.
Camp is about change, renewal, growth, and new adventures around every corner. I think our past leaders and those who have supported Friedenswald's mission with their whole heart would be proud to see us continue to grow and build on the vision of Friedenswald over 65 years ago.
As we let go of Round Lake, we do so with appreciation and gratitude for the memories it held. We also look forward to new opportunities that the land north of Allan Hill (which includes wetlands inhabited by the endangered Mitchell's satyr butterfly), will provide. It is an opportunity for us to continue to be good stewards.
My life has been greatly blessed by the gift of Camp Friedenswald. I look forward to the opportunities this addition will make to the protected natural beauty of the Main Camp and the continued vision our leaders and camp staff have to make Friedenswald a place of renewal and retreat for generations to come. I am thankful for the many individuals and churches who have committed their time, resources, and soul to making Friedenswald a special place. The vision and gift continues.
Share your Round Lake memories and pictures on Facebook or send to Jenna.