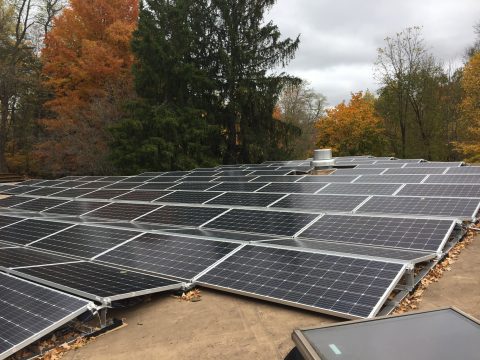 Just a couple of weeks ago I wrote a draft of a blog post about solar energy at Camp Friedenswald – excited to update you all on our rooftop solar array as well as inform you about the community solar that is also part of Camp's electricity portfolio. How the world has changed. On one hand, it seems insensitive to post a blog about solar energy in the midst of this global pandemic. At the same time, the coronavirus highlights the need for us to work together to solve a global crisis. Including more solar energy at Camp is one way we've been trying to address another global crisis – climate change. While the coronavirus is a crisis in and of itself, there is evidence that loss of biodiversity and climate change exacerbate the spread of the virus.
Everything is connected. We are all interdependent. Certainly, the coronavirus pandemic highlights this fact. Our director, Jenna Liechty Martin, recently wrote about the way we are "entangled" with the world around us – borrowing the term from writer, Richard McFarland. Look for her words of wisdom in your digital copy of the April Friedensword (along with a "2019 By the Numbers" graphic insert) in the coming weeks. Entangled seems an ever more appropriate term for where we find ourselves today – not knowing where this virus and the ensuing ripple effects will take us.
Cataclysmic events, while never welcome, can be opportunities to bring about positive change. The need to help society heal from the coronavirus crisis is clear. It is also an opportunity to make major strides in creating a more resilient and sustainable world. More than ever, we all need to work together to ensure that happens. And so – with that said, here is what is happening at Camp with solar energy: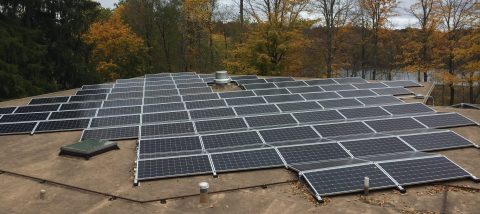 As most of you probably know, Camp installed 180 solar panels on the roof of the Dining Hall in September of 2019. These panels began producing solar energy for us on October 24th of 2019. From October 24th through March 12th the panels produced 6,980 kWh of electricity. As we enter into the peak solar production months of the year (March-September), the panels will produce even higher amounts of clean electricity, eventually producing a projected 64,000 kWh each year, or 25% of Camp's total electricity needs. That's equivalent to eliminating the greenhouse gas emissions from five homes' total energy use (EPA Greenhouse Gas Equivalencies Calculator). You can check out our solar panels' production at SolarEdge. Thank you so much to the many supporters who made this project possible!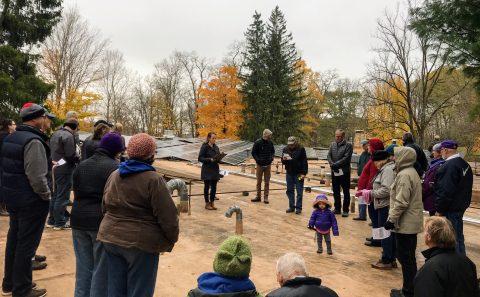 In addition to our rooftop solar array, there is more solar news here at Camp. In December of 2018 our utility, Midwest Energy, began offering a community solar program for residential accounts. Here is what that means – Midwest Energy put up 2,400 solar panels outside of Cassopolis, Michigan and began offering to lease the panels to residential customers. Camp signed up to lease 80 panels – 20 panels for four of our staff houses, the maximum amount allowed per meter. Every kilowatt hour of electricity produced by the panels we lease gives us a $0.10 credit on our electricity bill. Because we signed up for the program when there was a rebate available, Camp is actually making money through this lease program. The solar panels are also producing MORE energy than predicted, so in 2019 we made more money than we expected! Midwest Energy said each panel should produce, on average, 400 kWh/month, or 32,000 kWh/year for 80 panels. But in 2019, actual production from our leased panels was 34,648 kWh, or 14% of Camp's total electricity needs.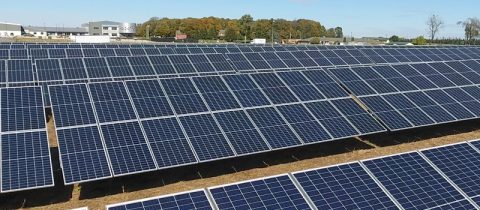 Solar is truly a win across the triple-bottom-line for Camp – providing social, environmental, and financial benefits. Our on-site solar array will provide a higher financial return and more opportunities for education about solar energy than the community solar panels. But because we don't have lots of space conducive for solar on-site, it is exciting to have the opportunity to lease solar panels from our utility as well. Participating in their community solar program also sends a message to our utility that we support this effort on their part.
With our rooftop solar array and our community solar panels combined, Camp is now running on close to 40% solar energy! With the renewable energy already in our utility's energy portfolio, 53% of Camp's electricity comes from renewables. It is exciting to see the clean energy revolution taking place here at Camp and in the larger community. We are very aware of the massive changes that need to take place in the coming years to reduce greenhouse gas emissions, but it feels good to be able to celebrate these wins for Camp, for our constituents, for the community, and for all of creation.