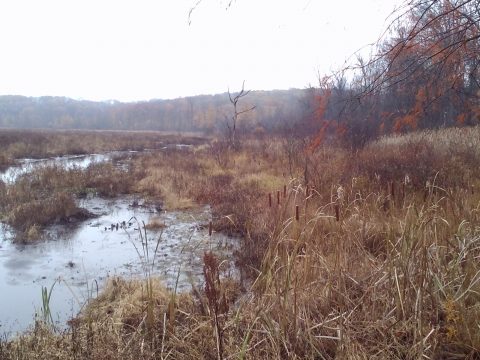 This afternoon is unusually quiet in the fen off Peninsula Drive. It's early November, and the first snow of the season is falling, wet and heavy enough to smack against leaves that either color the ground or cling to branches. A few weeks ago kids were running up and down the gravel road that enters Camp Friedenswald property and crosses the fen, chattering about the turtles they saw while canoeing, capture the flag strategies, or maybe their need for sleep. Now, with most retreats done for the season, and with today's soup-and-slippers weather, the road is unpeopled, the air still. About half of the trees retain bright gold and burgundy foliage, dampness intensifying colors in the foreground while the horizon is muted through snow-haze.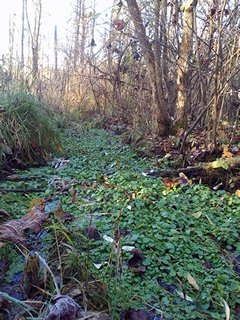 The fen is entering a season when it will fill a critical role for wildlife. Fed by underground springs, fens remain warmer as temperatures drop seasonally, and often remain unfrozen while neighboring ponds and lakes turn to ice. Animals rely on the open water here, and some plants even remain green. This moderating effect is important in the summer, too: When temperatures climb, the spring water remains cool, and provides habitat distinct enough from the surroundings to support unique flora and fauna. In this way, fens contribute enormously to the area's biodiversity.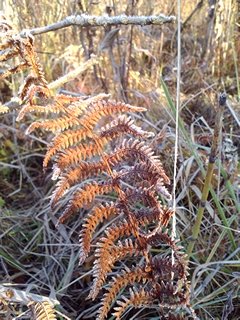 I'm told that neighbors used to whisper about what goes on at camp – and this news is pretty easy to believe. Existing as something like a private nature preserve in the midst of property owners and farmland can certainly elicit skepticism and curiosity. One key component of what we do is simply celebrating the wonders of the natural world, engaging with the surroundings and learning about the unique habitats found here. You can walk the "fen frolic" trail and learn about different resident species, experiencing first-hand the peat's sponge-like character as your footsteps jiggle the tamaracks' uppermost branches. You can learn about the endangered massasauga rattlesnake, how it uses crawdad burrows for a winter home; also about the endangered Mitchell's satyr butterfly, and statewide conservation efforts. If you're lucky, a great blue heron will spread its six-foot wings and heave itself away, or a sandhill crane will call out, vibrating every inch of the fen, and your very bones.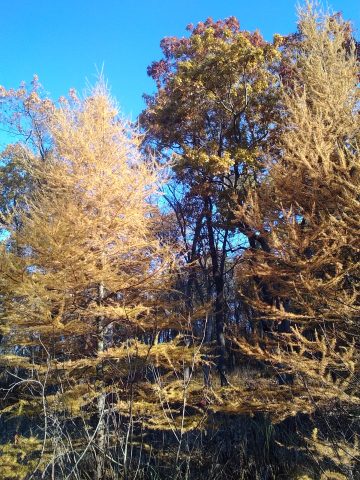 According the Michigan DNR, fens are "considered globally rare," existing only in glaciated areas of the Midwest. The greatest threat to species that depend on them is habitat destruction and loss, as we drain and fill wetlands  for urban and agricultural development. Pesticides and fertilizers also threaten the natural balance of fen habitats, interrupting food chains and altering nutrient levels such that invasive plants out-compete critical native plants. If prairie fens are going to survive as a defining aspect of this area's natural beauty, it will take involvement from the entire community. Limiting pesticide and fertilizer use and supporting conservation efforts are simple ways anyone can get involved.
I hear the familiar sound of Canada geese, then stillness and wet, falling snow. Then, from across the fen I hear a high-pitched howl. I grin. This particular greeting comes not from a coyote but from my niece, who has seen me from a nearby trail. Spaces like this, where people of any age have opportunity to witness the almost-wild, can help us remember that we are but one piece in an immense puzzle of existence, that this is wonder-full, and reason to celebrate.
References:
State of Michigan. (2017). Mitchell's satyr (Neonympha mitchellii mitchellii). Retrieved from Michigan Department of Natural Resources: http://www.michigan.gov/dnr/0,4570,7-153-10370_12145_12204-33013–,00.html
US Fish and Wildlife Service. (2016). Mitchell's satyr fact sheet. In Endangered species. Retrieved from https://www.fws.gov/midwest/endangered/insects/misa_fctsht.html