Our peaceful woods are a special place to many people.  Over 2015 we served 15,000 guests as a home-away-from-home, hosting them in a place set apart from the distractions and demands of their everyday life.  As we welcome church retreats, family reunions, college leadership retreats, and crafting retreats, we seek to embody our core value of Hospitality – nurturing a welcoming atmosphere and a sense of belonging.  In many ways, we are simply stewards of the hospitality our guests find in our peaceful woods, as God and creation welcome each of us to retreat, renew, and reconnect.
Words from our guests
"A fun time away, enjoying worship and reflection time in the Nature Center and in the woods." – a Goshen Church group

"We love Camp F.  We think of your staff as our friends.  When days are long and are endless strings of obstacles, we have the memories of camp to lighten the load.  Your camp has brightened our lives and lifted our spirits." – a Quilting Retreat
"Nature was great.  Gave us a comfortable space to reflect and also develop community.  All was great, but we appreciate the Mennonite connection." – a College Retreat
Camp Friedenswald is especially blessed with our dedicated staff who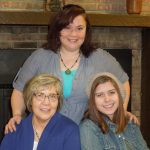 embody Hospitality for our guests. Deb Sprunger Martens is our newest addition, but if you have called or visited us in 2016 you will have been greeted by her friendly smile and voice.  A longtime camper from Berne, IN, she is taking on the role of Guest Group Coordinator.  Also serving our guests are our Guest Hosts Anita Pawelski and Natasha Weisenbeck.  Together, they and the rest of staff work hard to make you feel welcome and at home here at camp. 
We have been very blessed by our longest serving Guest Hosts, Abby & Andy Findley, who have served our guests for the past 3 years.  We will miss their welcoming spirits, but wish them well as they move on to new adventures.  We also wish them much joy as they celebrate a new addition to their family any day now!
We hope that each of you may experience the welcoming atmosphere of Camp Friedenswald, and feel like you truly belong here in our peaceful woods.