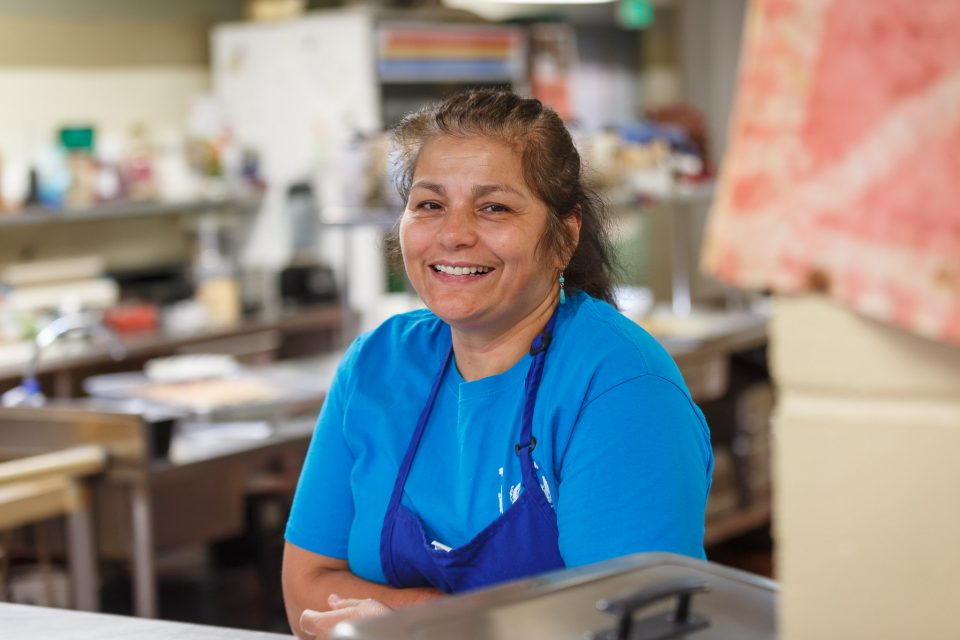 The following is a tribute to Elizabeth Solano who served as food service director at Camp Friedenswald from 2000-2020, making her the longest serving employee in Camp's history. Due to changes necessitated by the current pandemic, Ellie's position and long-run in the kitchen ended sooner than any of us would have liked. This is shared with sincere gratitude and appreciation to Ellie and for all she gave to Camp over the years.
---
Camp Friedenswald is bigger than any one of us.
On occasion, Ellie reminded me of the essence of these words.
During staff transitions, she reminded me.
When reflecting on the past, she reminded me.
When contemplating the future, she reminded me.
And I believed her. Until she talked about the future and the kitchen, that is, for I could not imagine the Camp kitchen without Ellie.
And for good reason! For two full decades Ellie orchestrated the life-sustaining, soul-filling, mouth-watering hub that is the kitchen at Camp Friedenswald. As food service director, she carefully planned menus that satisfied even the pickiest campers and delighted the more adventurous eaters. She found a way to balance the intensity of the six busiest months of a year, with the breathing room of the other six months, giving her the capacity to manage the most intense weeks of summer.
She struck a balance between resourcefulness and indulgence – knowing the right little touches to make a meal special (while always staying within a tight budget.) She could manage even the most stressful of situations with grace and calm, and at least on one occasion changing an entire menu minutes before mealtime when the deep fryer broke. She served a group of 200 hungry campers in just over five minutes, and at the end of the pizza meal had only three slices remaining. (She had it down to a science!)
Summer staff and volunteers loved working with Ellie. Twenty years' worth of summer staff have benefitted from watching Ellie's leadership in the kitchen (myself included) and learned basic cooking (and cleaning) skills from her. Volunteers appreciated well defined tasks and being able to contribute meaningfully to the work of feeding hungry campers – and some even learned some Spanish along the way.
Every meal was, in Ellie's words, "made with love." This is what fueled Ellie through the long, often hot, grueling days in the kitchen. She knew that the campers and staff needed to be fed – with food and love – and this is what seemed to keep her going. Even on the busy days, Ellie managed to find time to whip up a special dish for the staff or to throw in an extra option for those who were growing tired of shells and cheese.
There are meals that campers love – like chicken fingers and grasshopper pie. These meals, made with love, were good and filling. But it was the dishes that Ellie could add her own flair and seasoning to that really received rave reviews. Ellie's "Costa Rican meal" of pork carnitas, black beans and rice, and cabbage salad, were especially enjoyed by staff and campers.
The Dining Hall is the center of Camp-life, especially in the summer months. Meal times gather us all three times daily, with the ringing of the bell, to pray together, to eat, and to share life around the table. The conversations and relationships that have been nurtured, the community that has been built, these have all taken place because of the hospitality and love that's gone into each meal served by Ellie.
And so, it's hard to imagine Camp Friedenswald without her, even as her words, her wisdom, remind me: Camp Friedenswald is bigger than any one of us. It doesn't mean that we won't be sad; that we won't miss her smile behind the kitchen window, the meals so thoughtfully prepared, the insight and experience that she brought. Because we will. We will miss her dearly.
After twenty years, Ellie has left an indelible mark on Camp Friedenswald, a mark of love.
---
Because we are limited in the ways we gather in-person these days, we want to invite you to help us honor Ellie's service to Camp Friedenswald by sharing words of gratitude, a memory, favorite meal, photos, a blessing, etc. that will be compiled and given to Ellie. Please send by July 17.
Please send to:
Camp Friedenswald
ATTN: Ellie's book
15406 Watercress Way
Cassopolis, MI 49031
---
Future plans: Ellie continues to live in her home in Goshen, Indiana, and is looking forward to spending more time with her family – both in the US and Costa Rica – as she discerns what comes next.