As part of our worship together during Builders Weekend (July 15-16), Camp Friedenswald was welcomed into the Supportive Communities Network (SCN) as a publicly LGBTQ+ affirming organization – the first camp to join the network.
SCN is a program of the Brethren Mennonite Council for Lesbian, Gay, Bisexual, and Transgender Interests (BMC) and is a network of communities who are publicly affirming of LGBTQ+ members/participants. The network resources and supports communities who are working toward welcome and provides opportunities for dialogue among congregations and organizations.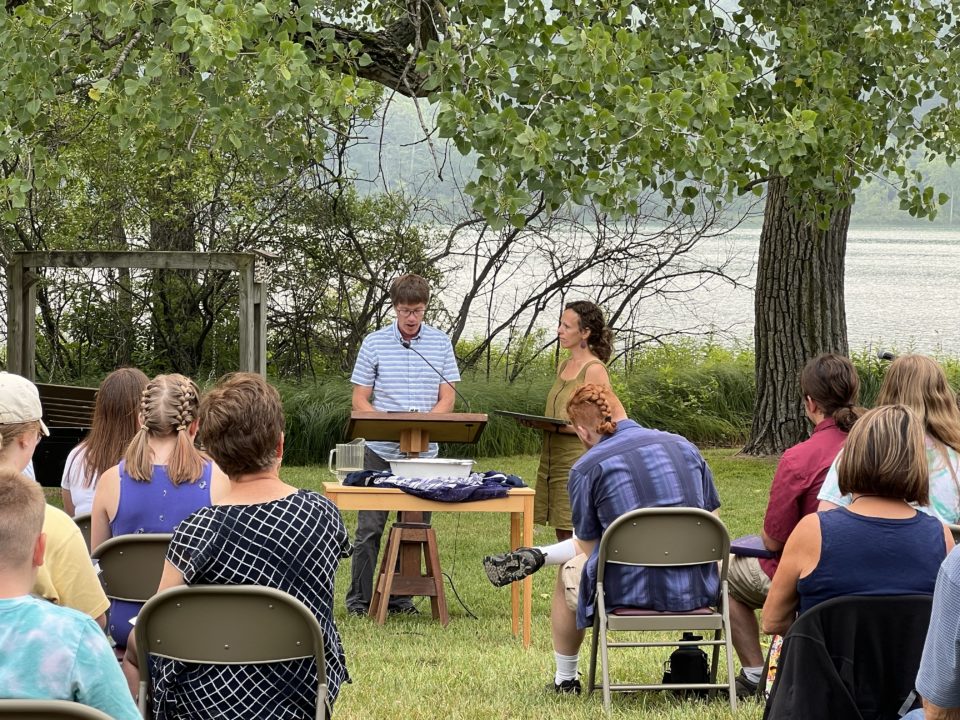 Karl Shelly, pastor at Assembly Mennonite Church (Goshen, IN), and long-time supporter of Camp Friedenswald, spoke on behalf of SCN, welcoming Camp into its fold. Karl reflected on how Camp's public affirmation and welcome to LGBTQ+ persons brings together two important attributes of God – God's justice and God's creativity – in the peaceful woods.
Joining the SCN was a natural "next step" in our journey towards greater inclusion and welcome. Over the past number of years, Camp Friedenswald has been on a journey of seeking to become a place where LGBTQ+ folks are affirmed and find belonging. Steps along the way have included:
2015 – Supporting and standing in solidarity with LGBTQ+ staff amid conflict with a long-time supporting congregation
2015 – Committing to working with individual campers and parents to make accommodations that best serve their needs
2021 – Camp Board affirming our desire to be a welcoming and affirming community to LGBTQ+ folks
2021 – Forming a diversity, equity, and inclusion (DEI) task force comprised of Camp Board and staff to help focus and move our work forward
2021/22 – Reviewing and rewriting employment policies, including adopting an inclusive hiring policy
2022 – DEI task force focusing on LGBTQ+ inclusion
2022 – Considering the Resolution for Repentance & Transformation that was passed by MCUSA delegates in May, beginning conversations about what it means for Camp
2023 – Repenting to Brethren Mennonite Council for LGBT Interests (BMC) for harm done to its members in early 2000s by Camp. Opening ourselves to listening and hearing stories of those impacted.
2023 – Providing education and training for staff on gender, sexuality, and inclusion
2023— Writing and adopting a Welcome Statement
2023 – Providing hospitality to a Queer Mennonite Leadership Retreat in collaboration with Central District Conference
We honor each of these steps, while also recognizing the need for ongoing work in our journey of becoming a camp where all campers and guests can know a sense of welcome and belonging.
In welcoming us into the SCN, BMC Executive Director, Annabeth Roeschley, wrote: "We appreciate your living commitment to being part of a network of justice seeking communities, who model to our denomination and neighbors a practice of visionary love and liberatory possibility." With hope and joy, and with the Spirit as our guide, we look forward to being part of this transformative journey!