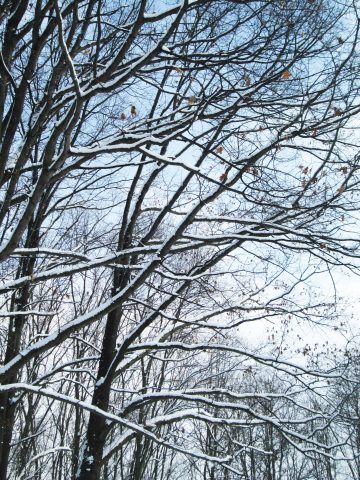 I'm walking this winter evening just as the sun is beginning to set. Ground and sky are close to the same color, except in the west where fire's beginning to catch. Tree trunks and branches bear stark black and white lines; trees on the horizon fade from brown to light blueish gray through a haze of blowing snow. I blink to un-blur my vision, and sniffle again. The forecast low tonight is 2 degrees.
About one mile from Camp, I walk past agricultural fields to the north, a lake to the south. Wind blows across this lake, picks up snow, and dusts my face. A couple months ago as I walked on this road farmers were harvesting corn; now the field looks like white corduroy.
Walking in the cold is a sort of meditation: It's impossible to lose one's self in thought for long, impossible to be numb to all the assertive sensations of the present. In the midst of a running catalog of events – snow slipping beneath my boots, nose dripping, shadows changing, colors deepening, wind gusting then gone then back again, fingers numb – I am startled by a loud rolling cry overhead. Sandhill cranes, a V of six, then a second V of maybe eight more. They call to each other and fly off toward the west as the sun drops to a gap between clouds and horizon, a sudden blaze behind silhouetted trees.  The air and snow turn golden. I want to fall down in glee and gratitude, but the part of me that wishes to be out of the cold seeks a compromise and I settle for a brief pause before turning to head home.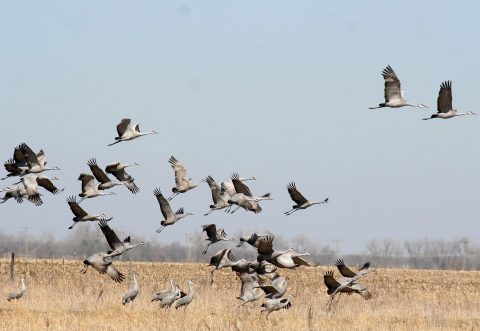 Sandhill cranes have existed for more than 9 million years as they are today, which means they've been around so much longer than humans that the span of their existence is hard to comprehend. They have, in fact, existed in their present form the longest of any of our feathered friends, making them the oldest bird species. Adding to this is the fact that while 10 of the world's crane species are considered "vulnerable," global sandhill crane populations are considered healthy, with current numbers around 650,000. One might be tempted to conclude that sandhill cranes have something to teach us about adaptability and perseverance.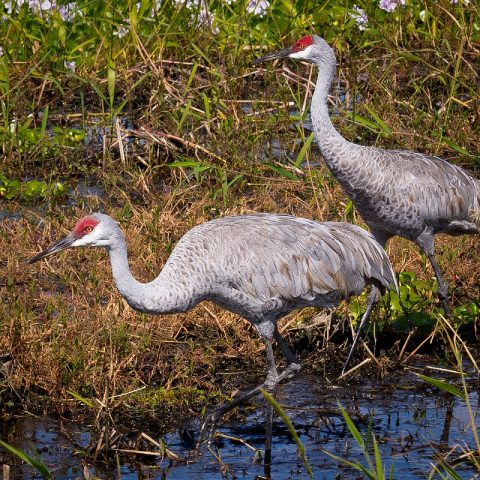 The fact that global populations are healthy doesn't mean the cranes are immune to human impact, however. Here in Michigan sandhill cranes were nearly extinct about a century ago due to hunting and habitat destruction. From this, too, we might learn something about (co)existence: Through conservation efforts sandhill cranes have made an impressive recovery, with numbers at a Michigan sanctuary reaching 9,000 in a single day in 2009.
Since before the Common Era cranes have captivated human imagination, eliciting respect and admiration. Whether you have witnessed a nesting pair of sandhill cranes in Camp's prairie fen or their mass migrations, it's easy to understand fascination with this ancient species. Standing at about four feet tall with a wingspan as wide as a (tall) man is tall, the ease and grace of their flight is striking, the heights and distances they achieve astounding. Cranes ride thermals up to 12,000 feet high (almost two and half miles) and flight during migration is commonly at a mile high; daily migrating mileage ranges between 150 and 400 miles.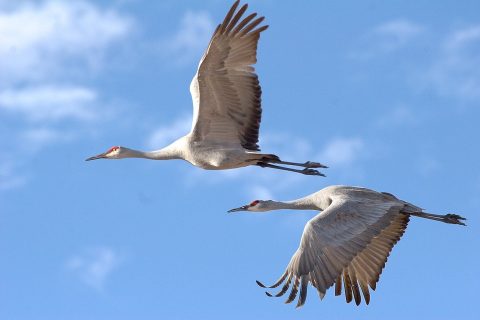 Just as awe-inspiring as their stamina is the way sandhill cranes leap and display their wings during courtship dances, forming a relationship that lasts for life. They also call to each other, mated pairs bonding through unison calling, and a flock frequently communicating in flight – resonant, rolling calls that reverberate deeply and can be heard up to 2.5 miles away. Their bodies actually function as sounding boards: Long windpipes spiral into the breastbone, creating a lower pitch as well as harmonics.
A fellow member of the Camp community recently said in conversation that whenever he thinks he hasn't heard the cranes in awhile they show up again, their unmistakable cry filling the air as they fly low over the fen. Similarly, it is often when the human world has walled up my vision and obscured the broad view that the cranes show up and tumble the walls with their trumpets. This is their power, from a time preceding human knowledge: to take us beyond ourselves and reveal an all-encompassing perspective. "Wake up!" they say. "Open your eyes!" they say. Look around. See that you are one part within the vast and living world.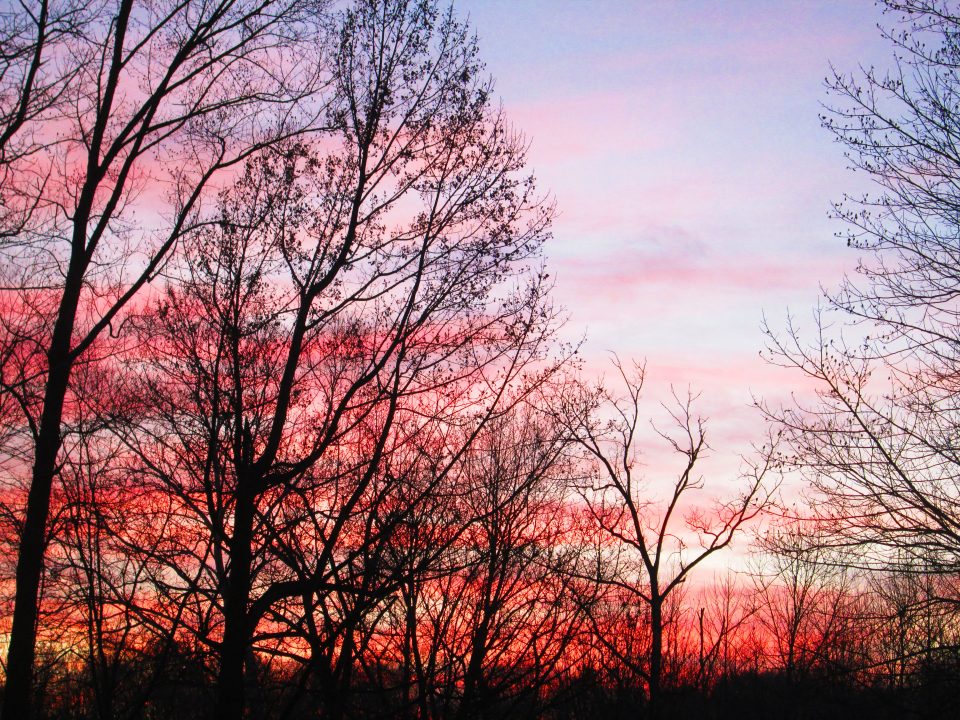 References:
Axelson, G., Barkley, B., Barry, J., Brown, M., Cascorbi, A., Campbell, V., Chu, M., Erickson, L., Hogness, R., Johnson, A., Johnson, T., Kwok, R., Leonard, P., Leukering, T., McBride, A., McGowan, K., Powell, H., Savoca, M., Sedgwick, C., Rabkin, S., Read, M., Vance, E., & Young, N. (2015). Sandhill Crane: Antigone canadensis. In All About Birds. Retrieved from Cornell Lab of Ornithology: https://www.allaboutbirds.org/guide/Sandhill_Crane/lifehistory
Johnsgard, P. A. (1983, January). Cranes of the world: 8. Cranes in myth and legend. Retrieved from [email protected] of Nebraska – Lincoln: https://digitalcommons.unl.edu/cgi/viewcontent.cgi?referer=https://www.google.com/&httpsredir=1&article=1011&context=bioscicranes
Matheny, K. (2017, October 18). 'Ribeye of the sky?' House recommends sandhill crane hunt in Michigan. In Detroit Free Press. Retrieved from https://www.freep.com/story/news/local/michigan/2017/10/18/michigan-sandhill-crane-hunt/777408001/
Michigan Audubon Society. (2015). About sandhill cranes. In News & events. Retrieved from https://www.michiganaudubon.org/news-events/signature-events/cranefest/about-sandhill-cranes/
U.S. Fish & Wildlife Service. (2018 accessed). Sandhill cranes (Grus canadensis). Retrieved from Mid-Columbia River Complex: https://www.fws.gov/uploadedFiles/Region_1/NWRS/Zone_2/Mid-Columbia_River_Complex/Columbia/Documents/sandhill-crane-facts.pdf