This past weekend, January 20-22, Camp Friedenswald hosted our third retreat of the year, Junior High Winter Retreat II. We welcomed 60 youth and sponsors from 3 churches for a weekend of fun and reflection.
Here are five memories of our time together: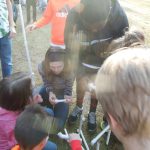 1. It was warm – For the middle of January, we had very mild temperatures. On Saturday, the temperature got up to 60 degrees. With such warm temps, it almost felt more like summer camp than winter camp.
2. We learned about the various ways Jesus calls us – Scott Litwiller and Caley Ortman, both current AMBS students, taught us about "Damascus Road moments" where Christ offers a dramatic and ground-shaking call (like he did with Paul) as well as "Emmaus Road moments" where the call is more subtle and Jesus walks with us along the way. Thanks Caley and Scott for sharing your gifts!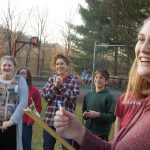 3. We worshiped alongside Parables – Parables is Goshen College's traveling worship team. We sang songs together and listened to personal stories of how God speaks to us in our everyday lives. Thanks for offering your gifts!
4. We bonded with our youth groups – Each worship session offered youth a chance to break out into their youth groups to discuss questions related to the message. Several sponsors reported that the youth were engaged and went deep into the topics.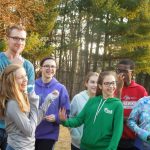 5. We played lots of games – Ping Pong, Carpetball, Foosball: You name it, we played it. This weekend, more than the other previous retreats, was spent playing games. Even outdoor games were a hit since the weather was so nice!
So thank you to all who made this weekend a success: sponsors, volunteers, musicians and speakers! Thanks especially to the youth who attended! See you this summer.