This past weekend, Camp Friedenswald hosted our final winter retreat of the season, Senior High Winter Retreat II. We hosted youth and sponsors from two churches, First Mennonite Church of Bluffton, Ohio, and Silverwood Mennonite Church of Goshen, Indiana.
Here are 5 joys from the weekend:
1. We learned about service in the church – the theme of the weekend was mission and service. Five different speakers shared their experiences of serving others both here in the U.S. and abroad. However, one common thread was shared by most of the people sharing: that service is a two-way exchange of wisdom and love. God is working around the world, and in following God's call we not only serve others, but are served ourselves.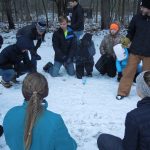 2. We sang familiar songs, and learned new ones – Bruce Rosario of Bethel College, Kansas, shared his piano skills and gospel music with the group. While we sang many of the familiar camp songs, Bruce taught us several new songs, which were very well received. Thanks Bruce for sharing your gifts!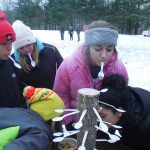 3. We crafted big time – While arts and crafts were offered at our other retreats, this group of youth was feeling especially creative this weekend. Over half of the group signed up for arts and crafts on Saturday, and many a friendship bracelet was formed.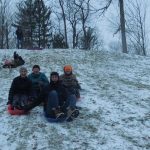 4. We braved the cold to go sledding – While temperatures hovered in the low 20's, we were able to stay warm by going sledding, and more importantly, hiking back up the hill. There's nothing like rushing down the hill on a sled to remind you that you are alive!
5. We returned home ready to share our gifts – throughout this month, we have been learning about how the church needs young people. It is not enough to say that youth are the future. Young people are an important part of the church today, and can make valuable contributions today. This past weekend, the youth discussed with their groups how to find God's mission in our own communities, and make a difference in our own churches.
A special thank you to the many volunteers, sponsors and youth who made this weekend meaningful. We cannot wait to see you all again!