Over this past weekend, January 13-15, Camp Friedenswald hosted our first Junior High event of the calendar year – Junior High Winter Retreat I. We welcomed 40 youth and sponsors from 6 youth groups from 4 different states for a weekend of fun, worship and reflection.
Here are 5 highlights from this retreat: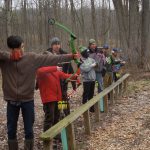 1. We made do without snow – While we would have enjoyed having snow for the retreat, we still enjoyed the weekend. We competed in a scavenger hunt around camp and participated in the annual Friedenswald Winter Olympics, an event that combines many varied challenges into an afternoon of fun. Events include an obstacle course, solving riddles, building a tower out of PVC pipes and many more!
2. We learned about friendship – Tig Intagliata, Campus Pastor at Bluffton University, along with a crew of student leaders from Bluffton delivered messages on the value of friendship. We looked at Jesus' relationships with friends to see what we can apply to our lives.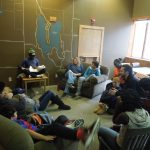 3. We worshipped together – We sang songs, prayed and memorized a Bible verse together (John 15:15 b). In our youth groups, we discussed what makes a good friend and how Jesus can be our friend as well.
4. We ate some Delicious food – Between the cinnamon rolls, shells and cheese, and grasshopper pie, we definitely ate well this weekend. And don't worry, there were fruits and veggies as well.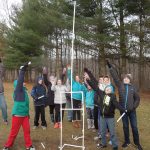 5. We rekindled old friendships, and built new ones – There was a really good amount of mixing of people across
youth groups. Usually we wouldn't expect this in Junior High, but one evaluation begged: "Please let us bunk with __________ next year! We had the best time together!" The youth really seemed to take the message of friendship to heart.
Thanks to the volunteers and sponsors who helped make this retreat successful! And thanks to the youth who have such great attitudes!