This past weekend we hosted our first program of 2018: our Senior High Winter Camp! Here are 5 things you should know about the weekend:
1. It was a full weekend – With over 90 youth, and over 40 sponsors and volunteers, we made great use of our newly renovated cabins and other lodging facilities. Overall there were youth from 12 different churches in attendance (1st Mennonite of Bluffton, 1st Mennonite of Indianapolis, 8th St., Assembly, Berkey Avenue, College, Grace, Hively Avenue, Huntington, Kern Road, Maplewood, and Silverwood!)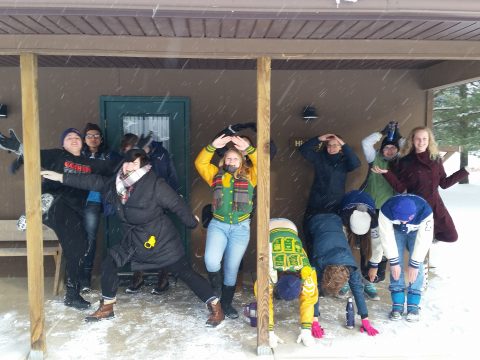 2. We had great weather for winter activities – It may have been cold, but at least there was snow on the ground. The tube run was a popular attraction, and when we got cold we came inside to enjoy some hot chocolate!
3. We prayed, sang, and worshiped together – Malinda Berry, professor of Ethics and Theology at AMBS, delivered a challenging message about the importance of nonviolent communication. We learned about empathy and the difference between value judgments and moral judgments. If you can, please ask a youth about it – our discussions were a favorite part of the weekend.
4. We built new friendships (and rekindled old ones) – We got to know youth from outside of our youth groups throughout the weekend. We also bonded with folks from our own churches through group discussions, shared activities and a photo scavenger hunt.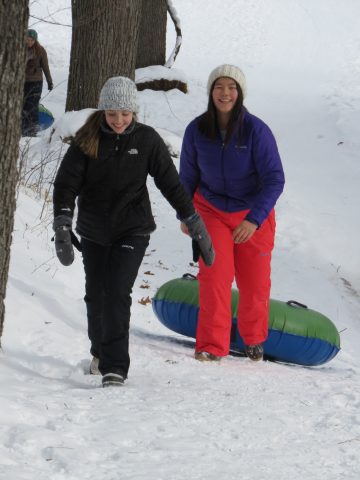 5. We enjoyed the chance to slow down and relax – Many of us lead very busy lives, with many activities taking up our time. It was enjoyable to spend some time together without our technology and just be. Many of us said that "Free Time" was one of our favorite parts of the weekend.