Frequently Asked Questions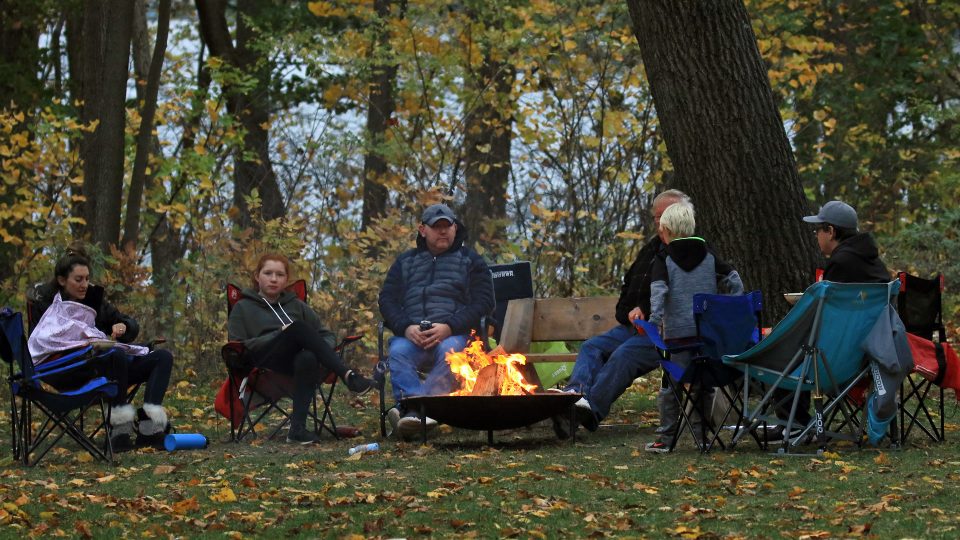 How will the Camp Getaway experience be different from a typical Family Camp or program?
The Camp Getaway is an alternative to the intensive programming offered during a typical week/end at camp that seeks to bring people together. For example, we will not provide childcare or gather together in Mosquito Hollow for singing. Additionally, buildings that are typically used to gather (i.e. Dining Hall, Game Room, Nature Center, Cottonwood Center) will remain closed. While the Camp Getaway IS different, we trust that it will be a welcomed opportunity to reconnect in the peaceful woods.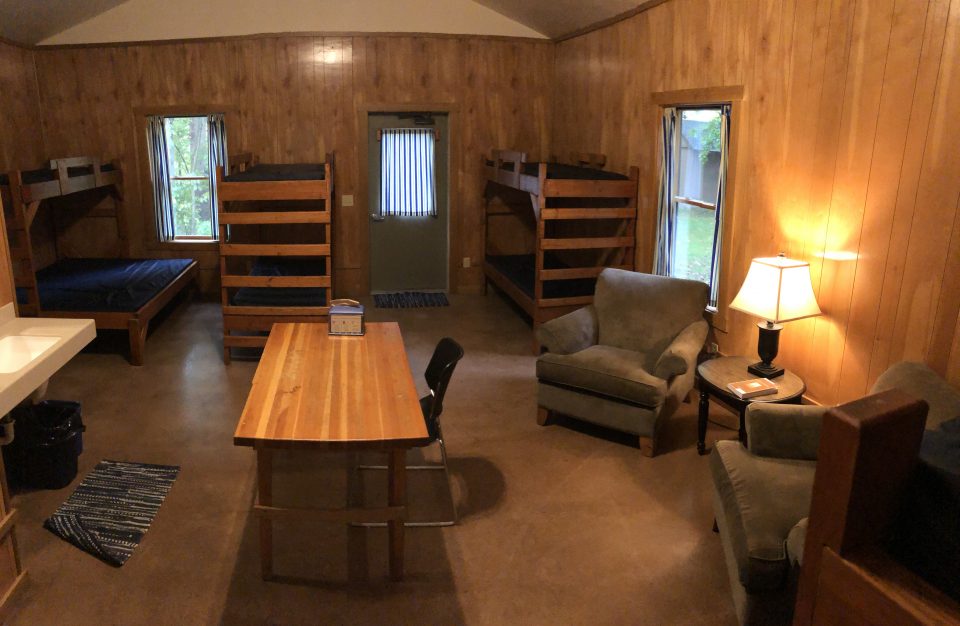 I'm worried about the weather. What if it's cold and rainy all weekend?
We've got you covered. We moved around bunks in each cabin to make space for a soft sofa or chairs, lamps, and a small table to eat around. While we'd encourage you to get outdoors no matter the weather, we're sure you could still have a relaxing, rejuvenating weekend if you choose to spend more time huddled around a campfire or cozied up with a good book in the cabin. Rain, snow, or shine – the peaceful woods will bestow it's peace!
What activities will be available during the Camp Getaway?
If you're looking for things to do, we've got you covered. There is a wide variety of activities available during your stay including:
Camp guided activities (additional cost = $40/activity). Indicate interest during the inquiry process. As one guest shared, "We loved the activities the most! Amy and Skye were very knowledgeable about the nature and environment that makes Camp such an unique place. "
You'll find a self-guided activity manual in your cabin to help you connect more deeply with the world around you. Fun for all ages.
6 miles of hiking trails with destination points
Sledding and tube run (weather permitting)
Cross country skiing (weather permitting)
Campfire (fire pit, firewood, and fire starter provided)
Boating (canoe and kayak – weather permitting)
Playground with swings
Gaga ball and four square
Outdoor basketball, soccer, tennis court (BYO equipment), sand volleyball, and grass volleyball.
Disc golf course
Carpetball and Foosball (outside Dining Hall)
Yard games (i.e. croquet, bocce ball, spike ball) in the cupboard near the cement grill in front of the Dining Hall
Biking (on the main roads around Camp Friedenswald and Shavehead Lake); biking trails at local Dr Lawless Park – 5 miles from Camp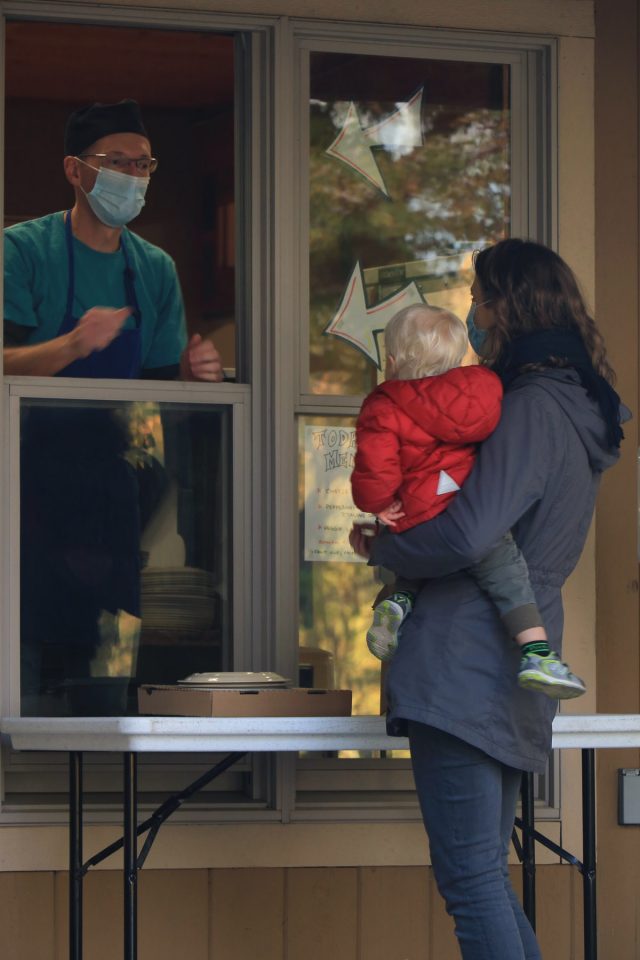 What will mealtime look like?
Imagine a whole weekend without having to give thought to what to cook. No dirty dishes to wash! And tasty, quality meals that appeal to the whole family. Each Getaway will include five meals and two snacks (and a homemade cinnamon roll!) Click here for a sample menu.

We also provide a casual "pizza pick up" on the evening of your arrival. Between 6-6:30 pm, come to the front of the Dining Hall and a slice of pizza, chips, fruit and cookie will greet you. You can eat outside the Dining Hall or carry it back to your cabin's picnic table.
All other meals will be delivered directly to your cabin at meal time. Each cabin will have an outdoor picnic table provided. At the end of the hour, Camp staff will return to pick up any leftovers and to retrieve your dirty dishes. Morning coffee will be delivered at 7:30 am (with a cinnamon roll on Sunday). Listen for the sound of the bell to know when it's time to eat!
A thermos of ice water will be provided and refilled throughout the weekend. Bags of ice are also available, upon request. We will provide all necessary utensils and tableware for meals, but please bring a water bottle and coffee thermos/mug. An electric kettle is provided in each cabin, along with tea and hot chocolate, to keep you warm on a chilly day.
Can I bring my own food?
Cabins do not include kitchen facilities, and so we invite you to kick back and relax – and let us do the cooking! The Camp Getaway is designed as a "package" – and so we ask that everyone participate in the meal plan. Vegetarian and vegan menu options are provided, and other dietary restrictions will be accommodated. Please indicate any dietary restrictions in advance of your arrival on your inquiry form.
If you enjoy your snacks, feel free to pack along some extra munchies, but we think you'll be happy with the quantity and quality of meals served. We'll get you started with a welcome basket with the fixings for an evening of s'mores.
What is Camp Friedenswald doing to help reduce the risk of spreading COVID-19 at Camp?
Camp staff will comply with executive orders from the State of Michigan and follow guidance from the State and Centers of Disease Control.
Camp staff will observe social distancing when interacting with you and will wear a face covering when interacting with you
Camp staff will thoroughly clean and disinfect high touch surfaces in your lodging before your arrival
Shared indoor common spaces will remain closed (i.e. Dining Hall, Game room, Cottonwood, Nature Center)
Shared outdoor spaces with high touch surfaces will be cleaned daily
Camp staff will be available (by radio) throughout your stay to address needs and concerns as they arise.
Limited number of people/groups on site at any given time
What expectations does Camp have of me during my stay to help maintain a healthy community?
In compliance with orders from the State of Michigan, and out of a desire to protect the health of Camp staff and guests, we ask you to observe and commit to the following:
Perform a health check before/during/after camp stay
Stay home if you currently are experiencing, or have experienced, COVID-19 related symptoms in the past 10 days
Notify Camp staff if you begin to experience symptoms while at Camp (and be prepared to leave immediately)
Notify Camp staff if COVID-19 symptoms develop for you or someone in your group up to 10 days after leaving Camp
Follow social distancing guidelines and maintain at least 6 feet distance from people outside your household
Wear a face covering when interacting with someone from outside your household
Wash hands with soap and water frequently during your stay
Abide by scheduled activity times in order to allow for social distancing
Communicate your concern of social distancing directly with other guests, if necessary
I would like to come with another family or group of friends. Can I do that?
Yes, we welcome extended families or groups of friends to inquire about availability for the same weekend. In fact, the Getaway has proven to be a perfect way for families to see each other in the midst of a pandemic. We will do our best to accommodate your requests, when possible.
I'd like to arrive a day early (or stay an extra) night. Could I add an additional day to the Getaway?
We will work with you to accommodate your needs. Just note this on your inquiry form and we can see if it can be arranged.
When can I arrive?
On Friday, or your day of arrival, we welcome you to come to Camp any time after 2 pm. Please let us know if you need to make other arrangements.
What should I pack? Are linens included?
Here's a list of items we suggest you bring to Camp:
Please note linens are not provided.
Sleeping bag/bedding for twin beds (north cabins have one queen bed)
Pillow
Towels (bath and hand towel)
Clothing (boots, coats, and mittens)
Toiletries (shampoo, soap, toothpaste, toothbrush, etc.)
Mosquito/tick repellent
Hand sanitizer and disinfectant wipes
Coffee mug or drinking cup
Water bottle
First aid kit
Snacks
Table cloth (for picnic table)
Lawn chairs and/or hammock
Games/playing cards
Flashlight and/or nightlight
Is Wi-Fi available during my stay?
While we hope you can take this opportunity to unplug, we know that sometimes you just need to send that email! Wi-Fi is available outside the Dining Hall.
Can I reserve a full lodge for my family?
We'd be happy to have you stay in one of our lodges! You can inquire here. In compliance with the State of Michigan's guidelines, indoor gatherings are limited based on square footage. Maximum occupancy is listed here.
Can my friends/family join us for the day?
We ask that during this time you refrain from inviting visitors to join you for the day. We want to be mindful of the number of people at Camp at any giving time.If each family invited friends for the day, we'd have more people on-site than we would like to have during this time.
Will the camp store be open for me to get the latest Friedenswald gear?
While the actual store won't be open inside the Dining Hall, we'd be happy to send you home with a new Friedenswald t-shirt (or book!) Check-out the online camp store before your arrival, and instructions will be waiting in your cabin if would like to purchase an item or two. You can pay by cash, check, or credit card.
Is there a place I can charge my electric car during my stay?
Yes! We have a level 2 EV charger available for free for camp guests. It is located behind Hickory cabin. Just let us know if you need help finding it.
What do I need to do before arrival? How do I pay?
In order to reduce the need for close interaction between you and staff, we ask that all paperwork and payment is received in advance of your stay. We will need your signed contract, COVID-19 release form (one per family), and total payment before your arrival. You can pay online or send payment to: 15406 Watercress Way, Cassopolis, MI 49031
We also ask that everyone in your family conducts a self-health check to ensure that everyone is healthy before coming to Camp. If you or anyone in your family has any of the following symptoms, please stay home.
Fever or chills
Cough
Shortness of breath or difficulty breathing
Fatigue
Muscle or body aches
Headache
New loss of taste or smell
Sore throat
Congestion or runny nose
Nausea, vomiting or diarrhea