Are you in need of a retreat? An opportunity to take a break from your home and stress of daily life? Come getaway to the peaceful woods and be renewed. We'll provide a comfortable cabin, hot and tasty meals, trails to explore, and the shores of Shavehead Lake to soothe your soul.
Bring your family, a friend, or simply come on your own. All are welcome.
As you step away from the routines of life at home, we trust the Camp Getaway will provide you and your family with time to reconnect and to be renewed by the beauty of God's creation.
Please note: Meals will be served out of the Main Dining Hall. If you choose, you may pack your meal in reusable "to-go" containers meant to carry back to your cabin porch. We will not be delivering meals to your door as we did in the midst of the pandemic. This option will allow you to select your food from a buffet line and help reduce food waste!
As more typical activity has resumed at Camp, our facilities have shifted, too. Cabin set-up includes bunks, table, and chairs. (Not soft-seating.)
Fall Getaways
Oct 14-16, Nov 4-6 Inquire
Cost: Cabin lodging $260 , Full portion meals $60, Half portion meals $40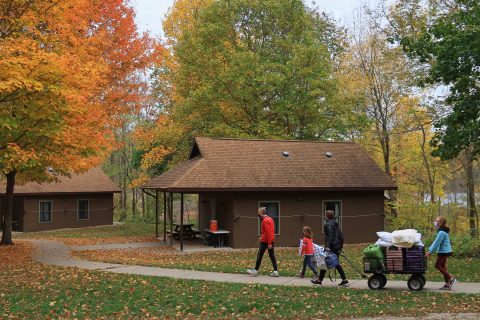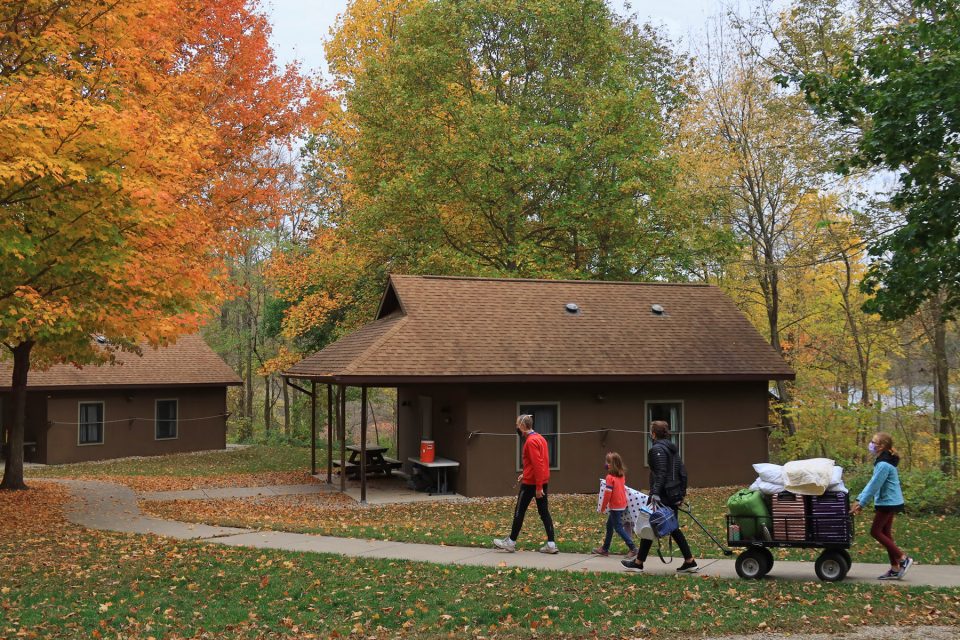 Come on your own for a solitary retreat, or getaway with family or friends. We'll provide the tasty meals, comfy cabin, and trails for exploring. Each cabin comes equipped with it's own firepit, so you can gather together no matter the fall weather.
You'll find instructions in your cabin for self-guided activities to help you and your family connect more deeply with the world around you. We are also offering select staff-guided activities. You may indicate your interest in a guided activity on your inquiry form and we'll add it to your Getaway package.
What are people saying about their Getaway experience?
We honestly give everything 5 stars. I feel like you all thought of everything we needed and then you added some extra things like S'mores, and trail maps in the cabins and delicious desserts that we didn't even know we needed.
We really appreciated all the amazing activities – the toboggan slide, the diving board and water slide, the canoes/kayaks, and the amazing food and nightly fires — that we were able to enjoy without feeling over-crowded or otherwise concerned about social distancing. It was a real luxury to be able to get away in this way.
Our family loved not having to worry about coordinating cooking or cleaning. For the introverts, the ability to vacation without any worries AND without any required socializing was perfect. We also enjoyed having our own campfire to sing around and roast s'mores on.
Great chance to relax in a beautiful setting.