Bring your group closer together by engaging in creative group problem-solving. We work with you to form the experience to address challenges and areas of growth for your team. The goal is to facilitate discussion while keeping it engaging and fun.
We offer 3-hour sessions for the morning, afternoon, or both. If you are here just for the program, we can also offer you a meal with our Dining Services either before or after your session.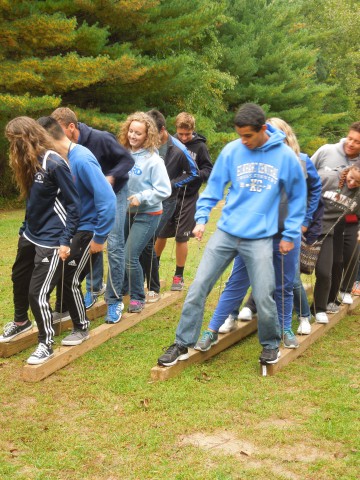 Cost
Youth and Adult: $25/person for 3 hour session
Participants must be age 11 or older.
Minimum of 8 people
For more information or to book a group, please call (269) 476-9744, or email [email protected]
Students
We tailor a curriculum to fit your group's needs and challenge them to work together to solve problems.
In the process, we address topics ranging from bullying, goal-setting, motivation, communication, and more.
Adults
Whether three hours or overnight we offer a fun, challenging program to help your group pull together.
Many adult groups, from administrators to volunteers, benefit from stepping outside of their normal roles and taking time to work through different scenarios together.